6 Tonganoxie wrestlers in top 3 at
KVL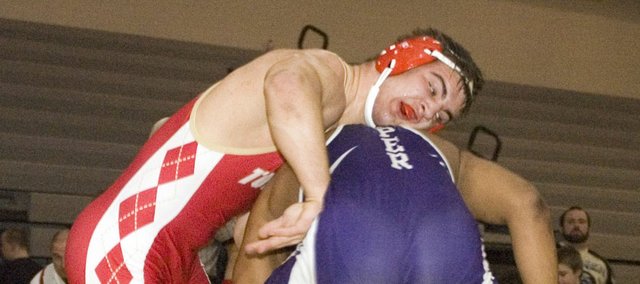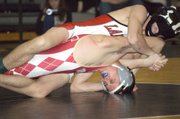 Kansas City, Kan. — Tonganoxie High's wrestling team had six top-three finishers Saturday at the Kaw Valley League tournament at Turner and finished fourth in the team standings.
The Chieftains sent four wrestlers — Clayton Himpel (112 pounds), Justin Soetaert (125), Nick Pursel (160) and Jonas Myers (215) — to the KVL finals, and had four others — Dylan Yates (119), Caleb Himpel (130), Colton Brown (140) and Julius Coats (189) —competing in the consolation finals.
Clayton Himpel and Pursel both won KVL titles Saturday. The 112-pound freshman came back from a 2-0 deficit in the third period against Lansing's Kevin Keller and scored a 4-2 victory.
Pursel won by default when Mill Valley's Andrew Van Holland re-injured his knee 10 seconds into the match and couldn't continue.
Soetaert lost to Caleb Seaton of Bonner Springs in his final and Myers was defeated, 3-2, in overtime by Piper's Airen Maxwell.
Yates took third place with a 12-2 victory against Bonner Springs' Billy Fratzel and Brown also finished third with a 16-0 win against Zach Stinnett of Mill Valley.
Fourth-place finishers for THS were Caleb Himpel and Coats.
Tonganoxie travels Friday for a two-day Class 4A regional at Holton.
For much more on the KVL tournament, pick up the Feb. 16 print edition of The Mirror.
KVL Tournament
Saturday at Turner, in Kansas City, Kan.
Team standings: 1. Turner, 169.5; 2. Lansing, 149; 3. Mill Valley, 138.5; 4. Tonganoxie, 117.5; 5. Bonner Springs, 90; 6. Piper, 75.5; 7. Basehor-Linwood, 60; 8. Bishop Ward, 2.
THS individual results
(Weight class — wrestler, record, place)
103 — Dominick Estrada, 0-2
112 — Clayton Himpel, 3-0, 1st
119 — Dylan Yates, 2-1, 3rd
125 — Justin Soetaert, 1-1, 2nd
130 — Caleb Himpel, 2-2, 4th
135- — Anthony Baker, 1-2
140 — Colton Brown, 2-1, 3rd
160 — Nick Pursel, 3-0, 1st
171 — Thomas Miller, 1-2
189 — Julius Coats, 1-2, 4th
215 — Jonas Myers, 2-1, 2nd
285 — Ryan Lynch, 1-2