Chieftains struggle to feed post in loss to Cyclones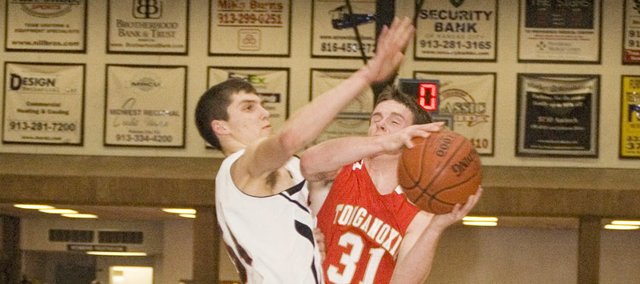 Kansas City, Kan. — No one wants to be Dane Erickson's latest victim.
With two 30-point outings to his name this season, word has spread about the Tonganoxie High boys basketball center.
Teams in the Kaw Valley League know what the junior pivot is capable of doing to them, and Bishop Ward made a point Friday night to negate Erickson's impact, a strategy that ultimately led to a 53-51 Cyclones victory after Ward junior CJ Vallejo hit the game-winning shot with 1.5 seconds left on the clock.
Ward's defense focused on taking away Erickson by making it difficult — and at times impossible — for THS to give him the basketball. Erickson had a Cyclone on his back and another in front of him all night long, and that limited the pivot to six field-goal attempts and 10 points in a narrow defeat.
As Erickson put it, the BWHS defense "interrupted" Tonganoxie's offense. He said he tried to contribute in other areas, such as defense or rebounding, but it was a difficult outing for him.
"It's definitely frustrating," he said, "but I try to adjust by finding open teammates, trying to get myself open when it's possible that I can."
Ward threw another wrench in the Chieftains' plans, THS coach Shawn Phillips pointed out, by denying senior point guard Jeremy Carlisle the ball. It wasn't as successful (Carlisle led Tonganoxie with 21 points), but combining that approach with the constant double-team on Erickson certainly proved disruptive.
"They had two guys around (Erickson) all night," Phillips said. "Then they tried to take Carlisle away, too, by just manning him up and doubling Dane and trying to make someone else beat us, and we didn't have anybody step up and do that today."
Senior guard Dylan Scates scored 10 points for the Chieftains (7-9 overall, 2-8 KVL), but the rest of the team combined to score just 10 points, with Colby Yates putting up seven and Brennen Williams adding a 3-pointer.
Said Erickson: "We had to find some other scorers and we had some guys step up, just not quite enough."
Not surprisingly, Phillips wasn't as forgiving. He said when two players are the focus of the opponent's defense, others on the team should be able to produce.
"That's something that we need to have," the coach said. "At times you can shut down two, but it's really difficult to shut down three people."
In spite of Ward's strategy, Tonganoxie led by four at the half. It wasn't until the third quarter, when the Cyclones (4-10, 4-5) held Erickson to one point, that the home team was able to get out to a five-point lead.
THS chipped away at Ward's advantage in the fourth and even took the lead on four separate occasions in the final five minutes.
Erickson was glad to see his team battle on the road.
"It's not fun, because you'd like to be ahead, but I was proud to see our team fight back and keep fighting until the very end," he said. "We just didn't come out on top."
After Vallejo drained a five-foot runner from the right baseline with just 1.5 seconds left in the fourth, Tonganoxie had one last chance to tie the game or win it after calling a timeout.
Ben Williams threw a long pass from the far baseline up to Erickson in the front court. Phillips said Erickson had the option to turn and shoot from near the top of the left wing, where he caught the ball, or pass it off to Carlisle or Brennen Williams.
However, when Erickson passed to Carlisle, Ward stepped in front for a steal and THS didn't get off a shot.
The road game was Tonganoxie's third in four nights. The Chieftains went 1-2 during their busy week, with their only victory coming Thursday at Turner.
Erickson said the team had hoped for a more successful week.
"We're definitely disappointed," he said. "This is the point in the season where we wanted to start rolling and start winning more games like we have the last couple years."
Tonganoxie, however, can't afford to get discouraged at this point, Phillips said.
"We've got two quality teams (Lansing and Bonner Springs) coming in (this) week, so if we let it continue to linger, that will make (this) week rough, too," he said. "So we've got to get ready for a big, tough battle in both games."
THS plays host to Lansing on Tuesday.
Score by quarters
THS 17 12 8 14 — 51
BW 11 14 17 11 — 53
Tonganoxie scoring
Dane Erickson 3-6 4-6 10, Dylan Scates 4-11 0-0 10, Colby Yates 2-6 3-3 7, Jeremy Carlisle 6-14 8-10 21, Dylan Jacobs 0-1 0-0 0, Austin Vickers 0-2 0-0 0, Brennen Williams 1-4 0-0 3.