Frontcourt leads
THS

girls to 'W' over Lansing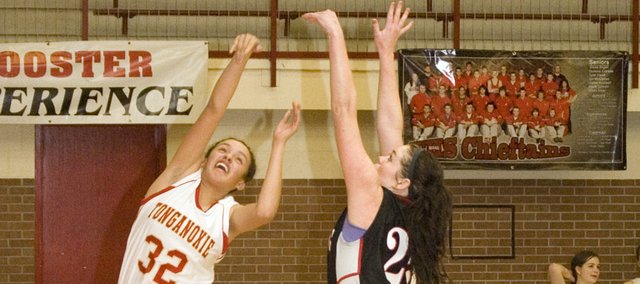 With its starting frontcourt out to prove a point, the Tonganoxie High girls basketball team attacked the paint Tuesday night and defeated Lansing, 59-51.
Chieftains forwards Danielle Miller and Tavia Brown kept Lions senior Katie Delich on the bench most of the second half by attacking her in the post.
Brown scored in the lane and drew Delich's fourth foul just 2:06 into the second half.
In the fourth, Miller took it to Delich for another and-one with 6:21 left in the game and the THS senior forward gave an emphatic fist pump when the basket dropped and Delich was disqualified.
Tonganoxie coach Randy Kraft said the Lions' pivot was able to block some shots and force a few Chieftains turnovers, but that didn't deter his determined forwards.
"Danielle and Tavia did a great job of attacking her," Kraft said. "Those two seemed to be on a mission to show her that they were here to play."
Brown scored seven of her 12 points in the second half and Miller didn't score a point until going on a fourth-quarter tear and finishing with 10 points, four rebounds and an assist in the final eight minutes.
Kraft was afraid THS (7-10 overall, 4-7 Kaw Valley League) had become too comfortable with a fourth-quarter lead and credited Miller for not becoming satisfied.
"I couldn't get anybody to attack and Danielle stepped up and started attacking," Kraft said.
Lansing (8-8, 7-3) only trailed by three at the half, but Tonganoxie's frontcourt — including sophomore forward Jenny Whitledge, who returned to the lineup after sitting out Friday's loss at Bishop Ward with an ankle injury — changed the game in the third quarter.
Whitledge had just one point in the first half but scored 12 in the second half.
Chieftains point guard Hannah Kemp distributed six assists in the victory.
"That was a good win for us," Kraft said. "We kind of put together bits and pieces of everything we've actually been doing the last three or four weeks."
At 6 p.m. on Friday, THS plays host to Bonner Springs.
Score by quarters
LHS 10 12 11 18 — 51
THS 14 11 16 18 — 59
Tonganoxie scoring
Amanda Holroyd 2-7 0-1 6, Danielle Miller 3-3 4-5 10, Jenny Whitledge 4-9 5-6 13, Tavia Brown 5-6 2-3 12, Hannah Kemp 2-3 0-0 4, Haley Smith 1-3 0-0 2, Tayler Miles 2-4 0-0 4, Madee Walker 2-3 0-4 6, Emma Stilgenbauer 1-5 0-2 2.