Late rally leaves
THS

wondering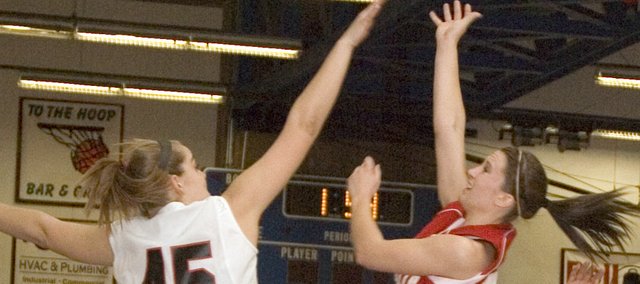 Kansas City, Kan. — A persistent line of thought has become this season's theme for the Tonganoxie High girls basketball team.
Time and again this year — win or lose — THS girls basketball coach Randy Kraft has wondered how much better a game might have gone had his team played to its potential for 32 minutes.
On Friday at Bishop Ward, that notion ran through his head once more after a 57-53 loss in which Kraft twice saw his Chieftains rally from double-digit deficits.
Down 15 points in the fourth quarter, a blowout loss seemed more likely than a victory for THS (6-10 overall, 3-7 Kaw Valley League). Then, out of nowhere, Tonganoxie went on a 15-0 run and tied the game at 51 with three minutes left.
Junior Haley Smith sparked the run with a jumper at the 6:38 mark in the fourth quarter. The rest of the spurt included a pair of Madee Walker 3-pointers, two free throws by Amanda Holroyd and five points from Danielle Miller, who converted a three-point play with an offensive rebound and free throw.
It was the kind of basketball Kraft expected to see out of his team against Ward (5-10, 3-6).
"You've just got to play the whole game that way," the coach said.
How difficult was it to come back from a 15-point fourth-quarter deficit and tie the game?
Just as challenging as it was to cut a 13-point second-quarter hole to four by halftime, Kraft said.
"When we worked hard, when we got on the boards and we attacked the basket and got to the free-throw line, both comebacks were the same thing," he said.
After THS tied things up in the fourth, the Cyclones took a 55-53 lead in the final minute and Holroyd took a potential go-ahead 3 from the top of the arc with five seconds remaining, but it rimmed out and Ward secured the defensive rebound.
Like her coach, Smith wondered what the outcome would have been if the Chieftains had played with intensity for four quarters.
"This should have been a game we won," the junior guard said after a 12-point outing, pointing to the team's play in the late comeback. "We should have had that momentum the entire game."
Ward led by nine after the first quarter. Kraft didn't think his team's defense was to blame for the Cyclones' hot start, though.
"Early on, they were hitting everything they threw up," Kraft said. "You've got to weather the storm and we went down and jacked up a couple quick shots and didn't run our stuff and get in a rhythm."
If inefficient offense cost THS in the first quarter, it was the team's free-throw shooting in the third that contributed to Ward's significant fourth-quarter lead.
The Chieftains were 7-for-11 at the foul line in the first half and went 7-for-10 in the fourth quarter, but they missed seven of their eight free-throw chances in the third quarter.
Like a lot of Tonganoxie's close losses, Kraft said, free throws cost them. It was another example, the coach added, of his team not being able to put things together for an entire game.
"We do a little better at the free-throw line and we're in it anyway, regardless of how well they're shooting," Kraft said.
The absence of sophomore forward Jenny Whitledge, who sprained her left ankle the night before in a win at Turner, also contributed to the loss at Ward.
However, Smith wasn't using that as an excuse and said there wasn't much of an adjustment for Tonganoxie without Whitledge.
"We had different starters, but that was it," Smith said. "We go out there playing this game just like any other game. With Jenny or without Jenny, we've got to play."
Kraft said Tonganoxie could have won the game without Whitledge, one of the team's top performers.
"It was very disappointing, even without her. The first time we played them, we only won by six, but that was the second game of the year and I feel like we we've been playing much better," Kraft said. "Jenny brings something, just like every kid we've got. It (her absence) shortens our rotation and makes some kids have to put in more minutes."
Kraft said Whitledge should be able to return to the court this week if she takes proper care of the injury.
Only four regular-season games remain on Tonganoxie's schedule, and with that in mind, Smith said the Chieftains have to get as many victories as they can.
"What we're mostly looking for is to get a couple more wins and that way we get a better setup for sub-state," she said.
THS plays host to Lansing on Tuesday.
Score by quarters
THS 9 18 9 17 — 53
BW 18 13 19 7 — 57
Tonganoxie scoring
Haley Smith 5-13 1-2 12, Amanda Holroyd 1-7 2-3 5, Tayler Miles 2-2 1-1 5, Danielle Miller 3-6 4-7 10, Hannah Kemp 1-4 3-4 5, Tavia Brown 2-3 1-4 5, Emma Stilgenbauer 1-3 3-8 5, Madee Walker 2-6 0-0 6.