Successful return
Wrestlers win 6 medals in first February matches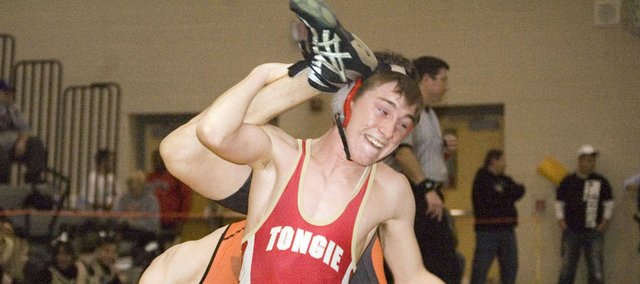 Photo Gallery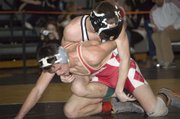 Chieftains 4th at KVL tournament
The Tonganoxie High wrestling team won 19 matches, six medals and finished fourth Saturday at the Kaw Valley League Tournament at Turner, in Kansas City, Kan.
Kansas City, Kan. — For an undermanned team that hadn't wrestled in two weeks, Tonganoxie High had to feel good about its Saturday trip to the Kaw Valley League tournament.
The Chieftains were minus four of their varsity grapplers due to various ailments and winter weather had wiped out the previous week's schedule, but they arrived at Turner ready to compete and left with two individual titles, a total of six medals and placed fourth in the KVL team standings.
"Our kids wrestled tough all day long," coach Jeremy Goebel said.
Tonganoxie didn't score enough team points to crack the top three — Turner won the 2011 KVL title, Lansing was second and Mill Valley finished third — but it did have a pair of individual champions in 112-pound freshman Clayton Himpel and 160-pound junior Nick Pursel, who both went 3-0.
Drama was not a part of Pursel's title bout, which he won by injury default when his opponent, Mill Valley's Andrew Van Holland, re-injured a knee 10 seconds into the match and couldn't continue.
However, Himpel appeared to be in some trouble in the third period of his championship match, when he trailed, 2-0, to Lansing's Kevin Keller, who defeated the Tonganoxie freshman twice during the regular season.
Himpel began the third on the bottom, because the last time he faced Keller, he scrambled and saw a few chances to get out. That approach worked perfectly Saturday. Himpel grabbed Keller's hip, scrambled and went on to a 4-2 victory, which the freshman described: "Somehow I came up with the two, and the two back and held on tight for the win."
Goebel said all the THS wrestlers need to compete with that same philosophy and look at the bottom as a chance to score points.
"That was a mindset," the coach said of Himpel's win. "For us to win the match, we've got to get off bottom and that's what turned it."
Two Chieftains reached the title matches in their brackets but came up short in the final. Senior Justin Soetaert (125) lost, 5-0, to Caleb Seaton of Bonner Springs, ranked No. 4 in Class 4A.
Later on, junior Jonas Myers (215) was defeated, 3-2, by Piper's Airen Maxwell, but it took overtime for the PHS senior to do so.
In an intense title match that was stopped momentarily for Myers' bleeding lip, the first three periods were a stalemate and a 1-1 tie led to a back-and-forth overtime period that Maxwell eventually won.
Myers said there was a special energy about his overtime title match.
"Those matches, it's all heart," he said. "It was a close match but he's a good kid."
Tonganoxie's other two medalists at the KVL tourney finished third. Freshman Dylan Yates (119) went 2-1, as did sophomore Colton Brown (140), who pleasantly surprised his team as a fill-in for the injured Adam Thomas.
Brown hadn't wrestled with the varsity team this season and finished as the third-best 140-pounder in the KVL in his debut, a feat that was not lost on his coach.
"Just things like that, kids winning matches that they're not supposed to win, that was the difference for us," Goebel said.
THS junior Caleb Himpel (130) and sophomore Julius Coats (189) both reached the consolation finals at the tournament but lost their third-place matches.
Still, Goebel was pleased with the team's 19 victories, especially because Thomas (elbow), Matt Soetaert (hand), Britton Price (concussions) and Luke Carey (ringworm) were unable to compete at the league finals.
"We came in here a little shorthanded, but our kids answered the call," Goebel said.
Before Saturday's KVL matches, the Chieftains hadn't wrestled since a Jan. 29 tournament at Baldwin. They didn't look rusty in their return to action, though.
Their success was a good sign, Goebel added, as the wrestlers head into a regional tournament this weekend at Holton.
"If we can wrestle like that," he said, "it's gonna be a good regional."
Justin Soetaert said he and his teammates should be better prepared for this weekend because of how they competed at league.
"It's just good to build confidence going into regionals," he said.
Clayton Himpel said the whole team should improve as a result of Saturday's matches, because even the wrestlers who were knocked out of the championship hunt were able to score points in the consolation bracket.
"I definitely think we're improving and getting tougher every tournament, especially after that long break we had with the snow days," he said. "Some guys came through today and did really good and got some back points."
The 4A regional at Holton begins Friday and continues on Saturday.
KVL Tournament
Saturday at Turner, in Kansas City, Kan.
Team standings: 1. Turner, 169.5; 2. Lansing, 149; 3. Mill Valley, 138.5; 4. Tonganoxie, 117.5; 5. Bonner Springs, 90; 6. Piper, 75.5; 7. Basehor-Linwood, 60; 8. Bishop Ward, 2.
KVL champions
103 — Sammy Seaton, BLHS
112 — Clayton Himpel, Tonganoxie
119 — Tyler Dickman, MVHS
125 — Caleb Seaton, BSHS
130 — James Lohman, Turner
135 — Jonathan Blackwell, BSHS
140 — Forrest Carrol, Turner
145 — Spencer Blew, LHS
152 — Dillon Scanlon, LHS
160 — Nick Pursel, Tonganoxie
171 — Tyler Baughman, LHS
189 — Armando Alcantara, Turner
215 — Airen Maxwell, PHS
285 — Zach Callahan, MVHS
THS individual results
(Weight class — wrestler, record, place)
103 — Dominick Estrada, 0-2
112 — Clayton Himpel, 3-0, 1st
119 — Dylan Yates, 2-1, 3rd
125 — Justin Soetaert, 1-1, 2nd
130 — Caleb Himpel, 2-2, 4th
135 — Anthony Baker, 1-2
140 — Colton Brown, 2-1, 3rd
160 — Nick Pursel, 3-0, 1st
171 — Thomas Miller, 1-2
189 — Julius Coats, 1-2, 4th
215 — Jonas Myers, 2-1, 2nd
285 — Ryan Lynch, 1-2