Tonganoxie boys first
KVL

team to defeat

LHS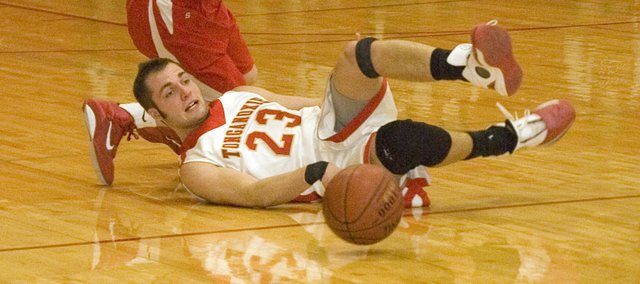 With a little help from its role players, the Tonganoxie High boys basketball team handed Lansing its first Kaw Valley League loss of the season on Tuesday.
Chieftains senior sub Austin Vickers sparked a fourth-quarter rally and the Lions fell, 57-55.
Lansing (12-4 overall, 9-1 KVL) held a five-point advantage entering the fourth but THS (8-9, 3-8) quickly cut into that lead when Vickers banked in a 3-pointer from the top of the key 22 second into the quarter.
Following eight straight Tonganoxie points from junior center Dane Erickson and a baseline jumper by senior point guard Jeremy Carlisle, Vickers gave the home team its first lead of the game with three minutes left. He put the Chieftains up 52-50 with a point-blank shot off a feed by Erickson.
The Lions took a 55-54 lead with 1:13 to play, when junior guard Izaiah Grice drained a 3, but Erickson put THS ahead for good with two free throws at the 49-second mark.
Tonganoxie senior guard Dylan Scates, who finished with 10 points and six boards, secured a critical defensive rebound and hit the second of two free-throw tries with nine seconds to go, giving his team a 57-55 lead.
LHS manufactured a solid look at the basket in the final seconds with senior Calvin Schneider driving to the left baseline, but his would-be tying jumper didn't fall.
The KVL contest was the second straight nail-biter for the Chieftains, who lost by two to a struggling Bishop Ward team on Friday. Four days later, they knocked off a Lansing squad that was previously undefeated in league play.
THS coach Shawn Phillips said the team's complimentary players were key in the home win.
"The major difference between the two games, I think, was we played with a lot more confidence from our guys that haven't necessarily been in the lime light all year long," the coach said. "We had guys making big plays. We had guys taking charges, getting a few crucial rebounds."
Erickson scored 10 of his 20 points in the fourth quarter and Carlisle finished with 13 points and three assists.
At 7:30 p.m. on Friday, Tonganoxie plays host to Bonner Springs.
Score by quarters
LHS 15 14 13 13 — 55
THS 6 18 13 20 — 57
Tonganoxie scoring
Dane Erickson 5-9 10-13 20, Dylan Scates 3-5 4-6 10, Colby Yates 2-4 0-4 4, Jeremy Carlisle 4-12 5-8 13, Dylan Jacobs 2-2 0-0 4, Brennen Williams 0-2 0-0 0, Austin Vickers 2-4 1-2 6, Josh Ghale 0-1 0-0 0.