American Heart Month puts healthy lifestyles in focus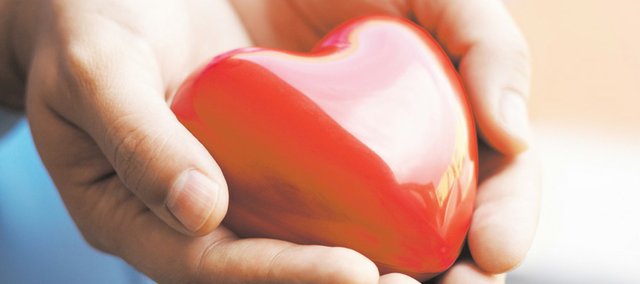 February is American Heart Month, and the Kansas Department of Health and Environment encourages Kansans to adopt a healthy lifestyle to reduce the threat of heart disease, the leading cause of death in the United States and Kansas. Below, KDHE answers questions about heart disease.
Q: What causes heart disease?
A: Some of the risk factors that lead to heart disease are heredity, age and race - factors that cannot be changed. Fortunately, most risk factors, such as high blood pressure, high blood cholesterol, tobacco use, obesity, physical inactivity, stress and diabetes are within your control and can be prevented.
Q: What steps can individuals take to help prevent heart disease?
A: Steps one can take to follow a heart-healthy lifestyle include:
• Get regular health screenings by your healthcare provider;
• Be physically active for at least 30 minutes on most days of the week;
• Be tobacco-free;
• Eat a diet rich in whole grains, low-fat dairy, fruits and vegetables;
• Limit foods that are high in sodium, cholesterol, sugar and fats.
Q: What can you tell us about heart attacks?
A: Heart attacks are the cause of about one in three heart disease deaths and an estimated 78,000 adults in Kansas have had one. Some are sudden and intense, but most start slowly, with mild pain or discomfort. Often people don't realize what's wrong and wait too long before receiving help.
Q: How can I know if I'm having a heart attack?
A: Recognize the following signs and symptoms and call 9-1-1 immediately at the first sign of a heart attack:
• Chest pain or discomfort: Most heart attacks involve discomfort in the center of the chest that lasts more than a few minutes, or that goes away and comes back. It can feel like uncomfortable pressure, squeezing, fullness, or pain.
• Discomfort in other areas of the body: Symptoms can include pain or discomfort in one or both arms, shoulder, back, neck, jaw or stomach.
• Shortness of breath: May occur with or without chest discomfort.
• Feeling weak, light-headed, or faint: This may include breaking out in a cold sweat, nausea or vomiting.
Q: Where can I get more information about heart disease?
A: For more information on heart disease, contact the Kansas Heart Disease and Stroke Prevention Program at (785) 291-3195.