O'Brien clarifies, apologizes for "complexion" comments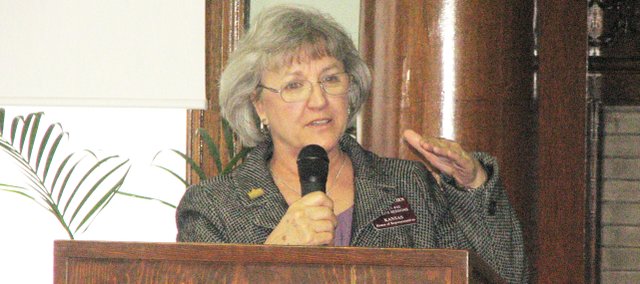 Rep. Connie O'Brien has released a statement clarifying and apologizing for comments she made recently about the "complexion" of a college student.
"After contemplating the statements I made in the Federal and State Affairs Committee meeting, I understand how they could have been misconstrued," O'Brien said in a released statement Wednesday. "I misspoke and apologize to those I offended. I have learned from this situation and will be more careful with my choice of words in the future.
"The student in question did not have a driver's license, government identification or any other form of documentation. From the situation, it was clear that the student was not a United States citizen. However, I should have been more precise in stating why it was clear that she was not a legal citizen."
The Tonganoxie Republican came under fire earlier this week for comments she made while testifying to a House committee this past week in support of a bill that would repeal in-state tuition for certain undocumented students.
The Kansas Democratic Party on Monday demanded a Republican legislator apologize for saying she could tell a woman wasn't from the United States because of her "olive complexion."
"This kind of blatant racism is unacceptable," said Kenny Johnston, executive director of the state Democratic Party.
O'Brien told the House Federal and State Affairs Committee about a time last year when she accompanied her son to enroll in college.
A woman near them in line was requesting her scholarship money but when the clerk asked for her photo identification, the woman said she had none, O'Brien said.
The woman then asked for someone else to help her, O'Brien said. O'Brien told the committee that the woman was going to get financial assistance, and her son, who was born and raised in Kansas, wasn't.
"We didn't ask the girl what nationality she was. We didn't think that was proper but we could tell by looking at her that she was not originally from this country," O'Brien said.
State Rep. Sean Gatewood, D-Topeka, asked O'Brien how she could tell, and O'Brien replied, "She wasn't black, she wasn't Asian, and she had the olive complexion." O'Brien said she had a son-in-law from Afghanistan, who had olive complexion, so the woman could have been from Afghanistan.
Another committee member, state Rep. Mario Goico, R-Wichita, told O'Brien during the committee hearing that the woman O'Brien had been speaking about, if she was an undocumented student, could not have received any federal or state scholarship funds.
The proposal to repeal the 2004 law that allows in-state tuition for undocumented students was approved by the committee and will be debated by the full House this week.