Bonner Springs girls defeat Tonganoxie in
OT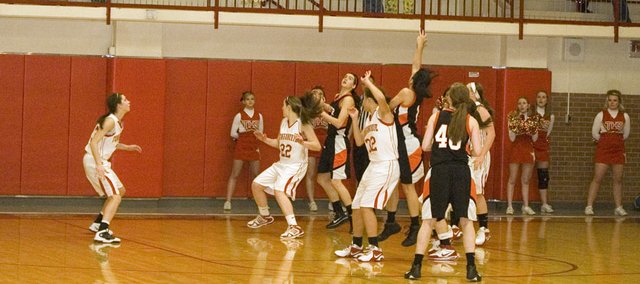 A second-half defensive switch by the Bonner Springs High girls basketball team helped the Braves rally Friday night for a 38-36 overtime victory at Tonganoxie.
The Chieftains picked apart the BSHS defense in the first half, cruising to a 24-11 lead. However, Bonner Springs (12-5 overall, 7-4 Kaw Valley League) went to a 3-2 zone in the second half and Tonganoxie (7-11, 4-8) only made five baskets in the final 20 minutes after making 11 first-half field goals.
THS coach Randy Kraft said the zone changed his players' approach.
"I think we got a little tight. We got tentative," Kraft said of his team's play in the second half. "We lost our aggressiveness."
Tonganoxie sophomore forward Jenny Whitledge scored the first basket of overtime, just 21 seconds in, but that proved to be the home team's only points in the period.
BSHS senior Erica Smith drove in for a tying overtime bucket with 2:50 left and the Braves scored what proved to be the winning basket with 45 seconds remaining, when Yessenia Hernandez penetrated to the paint and dished to Emily Wilson for a layup.
Haley Hoffhine scored five points for Bonner Springs in the final minute of the fourth quarter.
The Braves led, 34-32, in the final 30 seconds of the fourth, but THS point guard Hannah Kemp, who finished the game with seven assists, found Tavia Brown inside on an in-bound play with 22 seconds to go and the Chieftains forced overtime.
In the third quarter, THS scored just two points (on a Whitledge drive) and they came with 47 seconds left.
The Braves had opened the third on a 9-0 run, with the first five points coming from Smith before Anna Deegan and Hoffhine later scored transition baskets.
Both teams will travel Tuesday to Kansas City, Kan. Bonner Springs plays at Bishop Ward and the Chieftains play at Piper.
Score by quarters
BSHS 6 5 9 14 4 — 38
THS 12 12 2 8 2 — 36
Bonner Springs scoring
Yessenia Hernandez 1 0-3 2, Erica Smith 5 3-3 14, Haley Hoffhine 5 1-1 12, Erica Wilson 1 0-2 2, Anna Deegan 3 0-0 6, Emily Wilson 1 0-0 2.
Tonganoxie scoring
Amanda Holroyd 3 0-0 7, Danielle Miller 3 0-2 6, Jenny Whitledge 5 1-3 11, Haley Smith 2 0-0 4, Tavia Brown 3 0-1 6, Hannah Kemp 0 2-2 2.