BSHS

boys handle Chieftains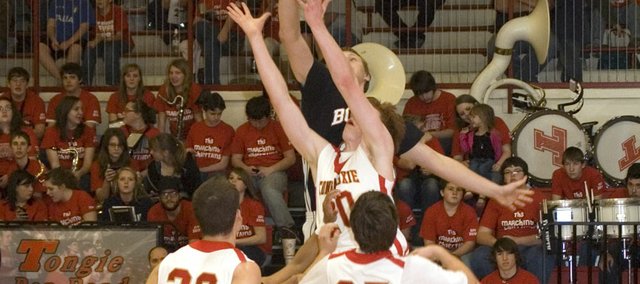 On a night the Tonganoxie High boys basketball team struggled to make shots, it fell behind early Friday and trailed throughout a 52-41 home loss to Bonner Springs.
The Chieftains missed 17 of their 18 3-point tries (junior Brennen Williams hit one in the second quarter) and shot just 25 percent from the field.
The Braves, meanwhile, opened the game with back-to-back scores from behind the arc — BJ Watson and Juan Pichardo each drained one — to jump out to a lead they wouldn't relinquish.
BSHS (12-5 overall, 6-5 Kaw Valley League) led by 15 early in the fourth quarter before THS (8-10, 3-9) made one last push.
By going 7-for-10 at the foul line in a four and a half minute span that also included baskets in the paint by Dane Erickson and Dylan Scates, Tonganoxie was able to put together an 11-2 run.
Still, after Erickson hit two free throws with 1:52 remaining to cut Bonner Springs' lead to six, the Chieftains couldn't get any closer.
Although the Braves missed their first three free-throw tries in the fourth quarter, they regrouped to hit seven of 10 in the final two minutes — JJ Jackson made four and Pichardo hit three.
A 12-3 run in the second quarter helped BSHS create some space between itself and Tonganoxie. Watson, Stevie Williams, Jourdain Smallwood, Jordan Jackson and Camron Callahan all scored during the run.
Tonganoxie went almost 14 minutes — from late in the first half to midway through the fourth quarter — without its starting senior point guard, Jeremy Carlisle, on the floor.
After a THS turnover with 1:03 to go in the first half, Carlisle committed a foul in the backcourt, then was whistled for a technical foul, bringing his total to four. He didn't return until the 4:24 mark of the fourth, with his team trailing, 43-36.
The Braves' starting point guard, Watson, also was a non-factor most of the second half due to an injury to his left knee.
Both BSHS and Tonganoxie have Tuesday road games in Kansas City, Kan. The Braves play at Bishop Ward and the Chieftains travel to Piper.
Score by quarters
BSHS 10 21 8 13 — 52
THS 6 12 9 14 — 41
Bonner Springs scoring
BJ Watson 3 4-6 11, Juan Pichardo 4 5-8 14, Jourdain Smallwood 2 1-2 6, JJ Jackson 0 6-8 6, Camron Callahan 2 1-2 5, Stevie Williams 1 2-2 4, Jordan Jackson 0 2-5 2, Brett Steuart 2 0-0 4.
Tonganoxie scoring
Colby Yates 0 2-4 2, Dylan Scates 3 3-6 9, Brennen Williams 2 3-4 8, Dane Erickson 4 8-11 16, Jeremy Carlisle 2 0-0 4, Austin Vickers 0 2-2 2, Dylan Jacobs 0 0-1 0.
More like this story