Chieftain Singers head to the Arch for group trip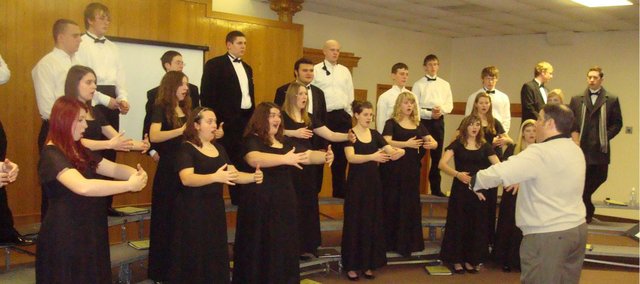 A University of Missouri-St. Louis professor provided instruction to Tonganoxie High School vocalists earlier this month.
But the trip to St. Louis wasn't all about instruction.
The Chieftain Singers, 27 strong, worked with UMSL professor Jim Henry and also performed at Union Station in St. Louis.
The Chieftains Singers received tips from Henry, who is associate professor of music and director of choral studies at UMSL, during about an hour and a half of instruction.
THS vocal instructor Tom Gifford said his students "improved tremendously" from the beginning to the end of instruction on some areas in which Henry worked with students.
"They did such a good job," Gifford said. "Students got along really well and were so willing to take the clinician's comments and really improve their singing. It was really amazing to watch."
Though the group worked with a clinician and performed while in St. Louis, the THS students also visited popular destinations in the city.
The singers went to Powell Hall for a performance by the Saint Louis Symphony and also visited the St. Louis Science Center, City Museum, St. Louis Galleria and, of course, the Gateway Arch.
Gifford, who is in his 25th year of teaching, said he likes to take trips that involve instruction rather than going to competitions. And he said this year's trip — the group normally takes a trip every third year because of tight budget constraints — was top-notch.
"Students were just outstanding," Gifford said, noting the group represented Tonganoxie well. "It might have been the best trip I've ever taken."
Students who attended were: Jody Baragary, Elliott Brest, Matthew Briggs, Taylor Clark, Nathan Dowell, Jonathan Duvall, Lacie Falk, Christa Firuccia, Tre Hesselman, Bryson Hewins, Madison Hunter, Beth Jobst, Aaron McIntyre, Daniel Monahan, Dominic Pitts, Keith Slater, Hank Somers, Jessica Sommers, Rachel Sparks, Ashley Stockman, Meaghan Tate, Christopher Tiner, Marcus Titterington, Kimmy Walters, Wes Williams, Megan Woods and Brian Yeager.