Different sports lead
THS

seniors to Oklahoma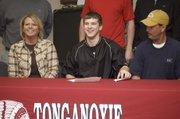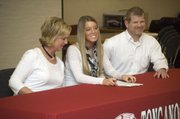 They took far different routes to arrive at the same point, but a couple of Tonganoxie High seniors will be heading south to Oklahoma to begin their college careers.
One swings a rope while riding a horse and the other hits ropes off his baseball bat. Chieftains seniors Shelby Pursel and Ethan Lorance will have a little more in common next year when they both enroll at Northeastern Oklahoma A&M College.
The two shared a unique signing day ceremony on Feb. 15, becoming the first THS seniors to sign together to attend the same school and play different sports — Pursel will join the rodeo team and Lorance will play baseball for the Golden Norsemen.
After a recent visit to the Miami, Okla., junior college, Pursel decided its rodeo program was for her and upon returning home she heard Lorance was going to a school in Oklahoma, too. She texted him to find out if he was going to NE Oklahoma A&M and after confirming it, she thought it would be "perfect" for them to have a signing ceremony together.
Pursel, who has competed in high school rodeo events for the past two years, said she would be glad to have someone from her hometown on the same far away campus.
"We're not extremely close, but it will be someone that I know," she said.
Lorance agreed, saying it was comforting to know they will have their Tonganoxie roots in common as college freshmen.
"It's kind of cool. I thought I was gonna go down there and not know anyone else at the school," Lorance said. "I can go down there and at least know some people."
The two had different reasons for choosing NE Oklahoma A&M. Pursel has some rodeo contemporaries from Missouri who will be attending there, too. Lorance felt like it was his best option among junior colleges, because it could better his chances of moving on to an NCAA Division I program or even getting drafted — "That's where I needed to go," he said, adding the scholarship he received covers all of his college expenses.
As Lorance's classmate, Pursel was familiar with his prowess on the diamond.
"I've been to a lot of baseball games. He's a really good player," she said of the Tonganoxie shortstop and pitcher.
Lorance said he knew Pursel, who anticipates competing in barrel racing and team roping at the college level, was a talented rider, but admitted he has not seen her compete in person.
"I can't say I've ever made it out to the rodeo," Lorance said. "I've seen pictures. I've heard how she's done."
Said Pursel: "He needs to catch up on that."
Once the two become students at NE Oklahoma A&M, that shouldn't be too difficult.