Next stop: Salina
Himpel brothers to represent Chieftains at state
Photo Gallery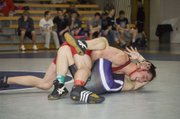 Tonganoxie wrestling competes at regional
The Tonganoxie High wrestling team qualified two of its wrestlers for state Saturday at a Class 4A regional tournament at Holton. The Chieftains finished ninth in the team standings.
Holton — Though the Tonganoxie High wrestling team had a chance to send a record number of members to state, just two Chieftains advanced out of the Class 4A regional Saturday at Holton.
THS freshman 112-pounder Clayton Himpel went 3-0 this past weekend on his way to a regional title and his older brother, Caleb, Tonganoxie's 130-pound junior, finished third with a 3-1 record at the state-qualifying tournament.
Wrestling under the spotlight in his final against Bonner Springs' Justus Seaton, Clayton got out to a 2-0 lead in the first period before fighting through some adversity and hanging on for a 4-3 victory.
Seaton had Clayton on his back in the second period, but the THS freshman found his way out.
"That shocked me a little bit. I knew he was a tough kid, but I didn't think he was quite strong enough," Clayton said of having his back on the mat. "I didn't really panic that much. I've been in big matches put to my back, I just knew I couldn't pin myself."
After watching the lightweight became one of just two wrestlers at Holton to win a regional title without entering the weekend as a No. 1 seed, Tonganoxie coach Jeremy Goebel said the victory was important for the freshman, who improved his season record to 32-7.
"Clayton just took care of business. Regional champ, that's a great stepping stone," the coach said.
Caleb took a step in the right direction, too, qualifying for state for the first time in his career. Caleb said Clayton's success this season drove him to work harder, because he heard some "smack talk" at school about his brother having a better record (Caleb is now 23-14).
"It's a big relief off my back, just because my brother's so good and everyone expects me to be good, too," Caleb said after winning his hird-place match convincingly against Jacob Morris of Piper with a 9-1 decision.
The Himpel brothers are excited about their upcoming trip to state.
"It's pretty cool," Clayton said, noting not many people can say they wrestled at state the same year as their brother.
Caleb, though, had at least one reservation about heading to Salina.
"I hope we're not gonna room together," he said, explaining they would probably get on one another's nerves.
Semifinal setbacks
All season long, the Chieftains talked of their goal of setting a new THS record by sending seven to the state tournament. To qualify for state, a wrestler must finish in the top four at a regional and Tonganoxie was in the running to have seven different wrestlers do just that, with six Chieftains competing in the consolation semifinals and Clayton waiting to wrestle his title match.
However, Caleb was the only THS grappler to make it out of the semifinals and earn that coveted state berth.
Five Chieftains — Dylan Yates (119 pounds), Justin Soetaert (125), Colton Brown (135), Jonas Myers (215) and Ryan Lynch (285) — lost in the consolation semifinals.
Goebel was disappointed none of the five was able to join the Himpels as state qualifiers.
"That last round, it's a heartbreaker. Our kids put themselves in a position to get there," the coach said. "It was a great effort by the team as a whole."
Soetaert said the consolation semifinal round was intense for Tonganoxie.
"It's hard. It's do or die. You lose, you're out, you win, you're in," Soetaert said. "I think it's kind of good wrestling with that pressure, though."
Clayton said he wished the season hadn't come to an end for so many of his teammates.
"I was a little disappointed. Last week we did well in league and had high hopes coming in," Clayton said. "Those guys fought hard, though. No one gave up."
Senior's last hurrah
Soetaert displayed his determination in a consolation quarterfinal victory against Andrew Tujague of St. James Academy.
The 125-pound THS senior trailed, 4-3, in the final seconds of the third period before scoring two points at the last possible moment for a 5-4 win.
Soetaert credited his conditioning and Tonganoxie's difficult practices for helping him score the last-second points.
"Coach just tells us to push all the time," Soetaert said, referring to Goebel. "It just showed. He (his opponent) was dead and I wasn't."
Of course, the finality of the day motivated him as well.
"I just didn't want to see it end," Soetaert said. "I guess I just wrestled harder."
Soetaert, who was a No. 3 seed at the regional, wanted to go to state, and his coach wanted to see him reach that goal, too. However, Goebel said Soetaert was an important contributor to the program.
"He's been a tremendous asset to our team as a leader, as a wrestler," Goebel said. "He put in so much hard work."
Injuries pile up
Two of Tonganoxie's wrestlers were injured Saturday at the regional.
First, Adam Thomas (145) aggravated an existing elbow injury in a consolation victory. Thomas was unable to compete after that and was eliminated due to injury default.
However, he went 2-1 in his matches before that, which impressed his teammate Soetaert.
"Adam, I think, showed a lot of heart, just trying to wrestle his first three matches," he said. "It's unfortunate he couldn't keep going, but it's (injuries) just part of sports."
Brown injured his right shoulder in his final match of the weekend, just before being pinned by Eudora's Spencer Board in a consolation semifinal.
Goebel said he was proud of Brown, who filled in for injured THS teammates each of the past two weeks.
Two other Tonganoxie wrestlers, Britton Price and Matt Soetaert, were unable to compete at the regional because of injuries. Also, Nick Pursel, who would have been the No. 3 seed in the 160-pound bracket, was unavailable for undisclosed reasons.
State matches
The 4A state tournament begins Friday at the Bicentennial Center in Salina.
In the first-round, Clayton will face sophomore Mason Kerns of Smoky Valley, who is 23-16.
Caleb's opening-round opponent is Parsons junior Thatcher Murdock, who enters with a record of 28-7.
Class 4A regional at Holton
Team scores: Tie-1. Bonner Springs, 147; tie-1. St. James Academy, 147; 3. Baldwin, 139.5; 4. Holton, 125.5; 5. Eudora, 101.5; 6. Piper, 96; 7. Jeff West, 95.5; 8. De Soto, 79; 9. Tonganoxie, 70.5; 10. Basehor-Linwood, 69.5; 11. Royal Valley, 68; 12. Atchison, 48; 13. Sumner Academy, 46; 14. Perry-Lecompton, 44; 15. Bishop Ward, 0.
Regional champions
103 — Hunter Price, Holton
112 — Clayton Himpel, Tonganoxie
119 — Caden Lynch, Eudora
125 — Caleb Seaton, Bonner Springs
130 — Lane Lassiter, Holton
135 — Symon Seaton, Basehor-Linwood
140 — Taylor Moeder, St. James
145 — Mark Hobson, Bonner Springs
152 — Ryne Cokeley, St. James
160 — Drake Lovvorn, Holton
171 — Brandon Vukas, De Soto
189 — Donny Parr, De Soto
215 — Boomer Mays, Eudora
285 — Jesse Austin, Baldwin
THS results
(Weight class — wrestler, record, place)
103 — Dominick Estrada, 0-2
112 — Clayton Himpel, 3-0, first
119 — Dylan Yates, 1-2
125 — Justin Soetaert, 2-2
130 — Caleb Himpel, 3-1, third
135 — Colton Brown, 2-2
140 — Anthony Baker, 0-2
145 — Adam Thomas, 2-2
152 — Luke Carey, 0-2
160 — Ian McClellan, 0-2
171 — Thomas Miller, 2-2
189 — Julius Coats, 0-2
215 — Jonas Myers, 2-2
285 — Ryan Lynch, 2-2