Supporters say growth necessitates bond issue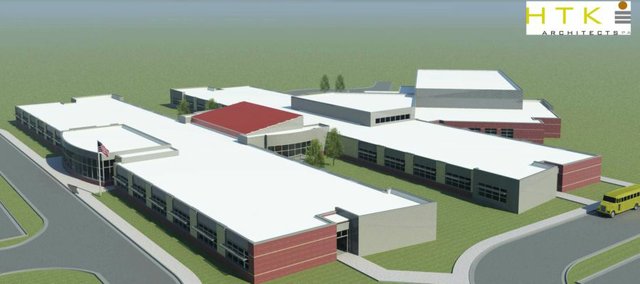 Proponents of a $26.9 million bond issue stress that an upgrade in USD 464 facilities is needed to keep up with growing enrollment.
Enrollment in the Tonganoxie school district has increased by 500 students, or 25 percent, in the past decade, and the average grade-level size has grown by nearly 40 students in the last decade.
A $25.6 million bond issue successfully passed in 2004 and addressed space issues. But now, more than six years later, school officials say space issues again must be addressed.
The particulars of the bond issue were laid out and discussed Monday at the first informational meeting for the bond issue at the Tonganoxie Performing Arts Center.
About 60 people attended the meeting, which opened with renderings of possible improvements to district campuses designed by HTK Architects.
The meeting then turned to a question-and-answer session among patrons, superintendent of schools Kyle Hayden and HTK president Mark Franzen.
Concerns about properly utilizing current buildings, what a failed bond issue could mean for overcrowding and whether it was a proper time to have a bond issue based with difficult economic times were some of the issues expressed at the meeting.
One patron asked about an option the district had not pursued: transforming the aging elementary school, which currently is home to kindergarten through fourth grades, into a community center and building a larger elementary school near the current middle school.
Franzen said renovating TES into a K-1 building and constructing an intermediate school was the more fiscally responsible move.
Dennis Bixby, who is running for city council, said he's supportive of youth and education, but he wasn't sure the economic climate was right for a project.
Hayden responded that planning for the issue has been a 2 ½ year undertaking and been pushed back since fall 2008 because of the economy.
However, he pointed out in a slideshow presentation that:
• The project would bring jobs to the community.
• Construction costs for materials and labors are down.
• A minimum of 25 percent of the project would be paid by the state aid estimated at $6.725 million, while state aid for opening a new facility would be $2.25 million total during the next two years.
A failed bond issue could mean the district would be without that aid in the future because of a push in the Legislature to do away with the funding for bond elections after July 1.
The estimated annual impact, according to the district, for a property with an appraised value of $100,000 is $104.34. The impact on a $125,000 property would be $130.42, and it would be $156.60 for a property appraised at $150,000.
Hayden also noted that Tonganoxie's mill rate currently is 54.81 mills, which ranks low among area school districts. For instance, Lawrence is at 57.87 mills and Eudora is highest with 68.46 mills. With a successful bond issue, Tonganoxie's proposed mill rate would be 63.88 mills, in step with Leavenworth (63.18 mills).
Also playing into the bond issue discussion are infrastructure improvements that have been a concern with the city in its discussions with the district. Hayden said the district just received preliminary traffic study results earlier Monday that suggested an extension of East Street, which would run along the east side of the district's 80 acres, based on traffic statistics. A 14th Street extension was not needed from the campus to U.S. Highways 24-40 would not be required, according to the preliminary report.
That land is home to the Tonganoxie Middle School constructed in 2004 and, if the bond issue passes, would be home to a new intermediate school.
The bond issue currently calls for a new intermediate school for grades 2-5 ($16.8 million), improvements to the elementary school, which would be K-1 ($450,000), a high school addition that would connect the east and west campuses ($5.9 million), fees, furniture and permits ($2.6 million) and contingency funds $1.15 million).
Voter registration is open until March 21. For more information, call the county's voter registration line at (913) 684-0419.