Tonganoxie boys searching for consistent play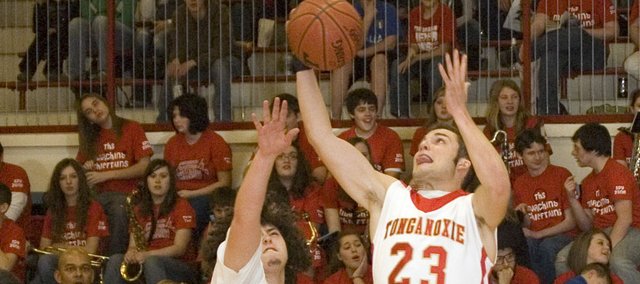 If the Tonganoxie High boys basketball team wants to make any postseason noise this season, it might need to break a bad habit in a hurry.
Inconsistent play and slow starts have hampered the team throughout the year. Such was the case Friday, THS coach Shawn Phillips said, when the Chieftains didn't display "a whole lot of fight" in a 52-41 home loss to Bonner Springs.
That surprised the coach, considering his team had knocked off Lansing, previously undefeated in Kaw Valley League play, just three days before.
"We've struggled with it all year long. We can have great efforts, or we can really struggle," Phillips said after his team fell to 8-10. "I was hoping maybe we had turned the corner on that."
Bonner Springs (12-5 overall, 6-5 KVL), he added, is a solid team and because THS didn't come out ready to compete — Tonganoxie trailed throughout the loss and by as many as 15 points in the fourth quarter — the chances of winning were minimal.
"Our mental approach to the game was not very good," Phillips said. "We didn't come ready to play. It didn't seem like we had a whole lot of fire or intensity or competitiveness like we did Tuesday (in a 57-55 home victory against Lansing)."
Sub-state tournament play begins next week, and Phillips said his players better be ready to compete if they don't want their season to end in the first round.
"We've got to come out with some fire and intensity, because once we get to sub-state, you lose and you're done. You can't afford to be playing out of a hole, and we've done that too many times this year." Phillips said. "When we come out ready to play, we're pretty decent."
THS has trailed after one quarter of play in 12 of its games this season. Tonganoxie is 4-8 when opening the second quarter in a hole and 4-2 when tied or leading.
Entering Tuesday night's games, the Chieftains held a slight edge over Jeff West for the No. 4 seed in the Class 4A Piper sub-state tournament, and they are guaranteed to face Jeff West in the first round, either at home or on the road. Regardless of the venue, Phillips said the two squads appear evenly matched.
"They've got a pretty decent post player, we've got a pretty good post player," Phillips said, referring to junior THS center Dane Erickson. "It should be a fairly decent matchup, overall."
Prior to Tuesday night's games, Basehor-Linwood and Sumner Academy were tied for first in the sub-state standings with identical records of 15-3.
Phillips said those two programs are the favorites to advance to state, even though the Bobcats lost twice this past week and had a one-point victory against Bonner Springs on Feb. 14.
"They've got guys who are experienced and have been there before," Tonganoxie's coach said of rival BLHS. "I could see them turning it around and playing well."
Sub-state brackets will be released by KSHSAA on Wednesday. Check back in at tonganoxiemirror.com to find out if the Chieftains will play Jeff West at home or away.