Tonganoxie girls optimistic about postseason chances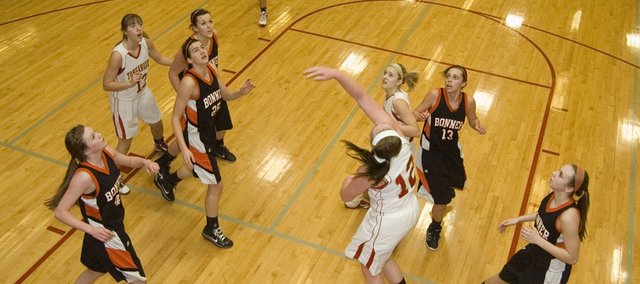 A losing record might not be too heavy a burden for the Tonganoxie High girls basketball team when the postseason begins next week.
After falling 38-36 in overtime at home against Bonner Springs on Friday, the sub-state rankings weren't looking so great for the Chieftains, now a 7-11 team with no shot of playing host to a first-round game.
However, Tonganoxie coach Randy Kraft thinks the absence of a dominant team in the Chieftains' Class 4A sub-state bracket just might mean his team has a chance.
"It's not one of those sub-states you go into where we'd have to have a miraculous night," the ninth-year THS coach said. "We can compete with any of them in there."
Heading into Tuesday's games, five teams were ahead of THS in the sub-state standings, but Tonganoxie has defeated two of them — Atchison and Bishop Ward — and suffered close losses to two others — Basehor-Linwood and Bonner Springs. The only team from that group the Chieftains didn't play this season is Sumner Academy.
"Usually most sub-states are filled with a couple pretty top, really tough teams," Kraft said, "but this one, there's a lot of parity in it all around, even though some of the records don't show it."
Though THS is a sub-.500 team, Kraft pointed out the Chieftains have had some close losses. In fact, seven of their defeats have been by five points or less, including Friday's loss to Bonner Springs and both losses against BLHS.
Tonganoxie sophomore point guard Hannah Kemp, who had seven assists in the overtime loss to the Braves, said the Chieftains have shown they can play with the teams that are ahead of them in the standings.
"Honestly, I can say we're really excited about the sub-state that we've been given this year, because it is very winnable for us if we can put it all together," Kemp said.
After defeating Lansing on Feb. 15 and playing a tight game against BSHS, Kemp said THS is shaping up and just needs to fix a few problems. She noted that Basehor only beat Tonganoxie by five the last time the two teams squared off and THS had 31 turnovers in that game.
Also, because of the Chieftains' losing record, Kemp said, other teams could overlook them.
"Sub-state's a time that I think we're all gonna be able to come out that much more intense and be ready to go out there," she said.
Kraft also showed optimism and said the Chieftains needed to avoid beating themselves. He said if they are in a close game, they will have a chance to come out on top against their potential sub-state opponents.
"I think if we play our kind of basketball, we can play with any of them," Kraft said. "We could also get beat… It's kind of up to us."
Sub-state brackets will be released by KSHSAA on Wednesday. Check back in at tonganoxiemirror.com to find out the Chieftains' seed and first-round opponent.
Because Tonganoxie cannot catch Atchison, which has nine wins, before sub-state brackets are put together, THS will either be a five or six seed and play it's first-round game on the road. Any games after that will be played at Piper, in Kansas City, Kan.