NWS

issues winter storm warning for region; 3-6 inches of sleet and snow possible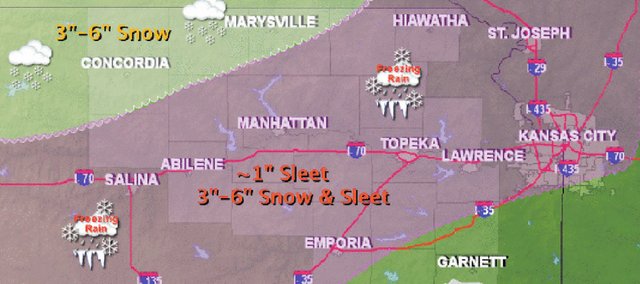 The National Weather Service has upgraded the winter weather advisory to a winter storm warning for the following counties:
Kansas weather updates, via Twitter
Brown
Clay
Dickinson
Douglas
Geary
Jackson
Jefferson
Lyon
Morris
Nemaha
Osage
Ottawa
Pottawatomie
Riley
Shawnee
Waubaunsee
The warning is effective from 6 a.m. to 9 p.m. Thursday. The winter weather advisory is no longer in effect.
In addition, a winter storm warning has been issued for noon Thursday to midnight Friday for these counties:
Atchison
Doniphan
Johnson
Leavenworth
Wyandotte
The NWS expects freezing rain to begin by late morning before changing to sleet and then snow by late afternoon. Snowfall rates of an inch per hour are possible when the storm hits its peak this afternoon.
The storm will travel from west to east.
Accumulations of 3-6 inches of sleet and snow are possible before precipitation ends about midnight.
Driving will become hazardous by the afternoon. Allow for extra time on the roads. If possible, postpone travel plans.