Whittington signs with Coffeyville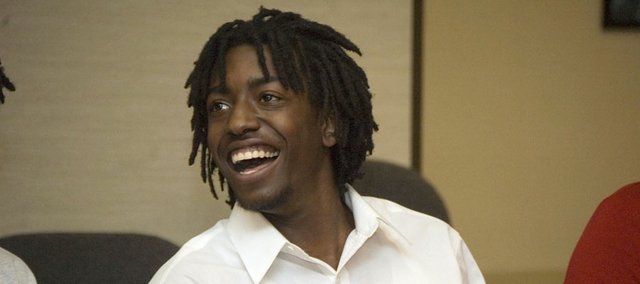 In his four years at Tonganoxie High, Adrian Whittington has grown and matured.
That didn't mean he couldn't have some fun, though, when he signed a letter of intent Feb. 17 with the Coffeyville Community College football program.
It has become a tradition the past couple of years for THS athletes who are signing with a college program to use a special "aim for excellence" pen, which is usually presented by athletics director Brandon Parker or principal Jamie Carlisle.
With the help of his senior classmate and football teammate Jeremy Carlisle, Whittington already had one of the special pens in hand when the THS principal brought it up.
Said Jeremy Carlisle: "Me and Adrian thought we could just come in a little bit more prepared today… put our own little twist on things. It was pretty funny."
The prank received a big laugh from the surprised principal, Jeremy's father Jamie, and Whittington couldn't help but chuckle himself at pulling a fast one.
The 5-foot-11 senior, who played as both a wide receiver and defensive back for the Chieftains in the fall, does have a serious side. Whittington said being involved in THS football and track (he qualified for state in the high jump as a junior) helped him mature as a student and an athlete. The progress was a result, he said, of being academically ineligible to participate in sports as a sophomore.
"It just showed me how really important education was, because my freshman year my grades were horrible and my sophomore year I didn't get to play any sports that I wanted to," he related, explaining he began working harder in the classroom as a junior.
That maturity, paired with his athletic ability, brought him to where he is now. Whittington said Coffeyville coaches came and talked to him this past fall after catching wind of his vertical leaping ability, which had been measured at 36 ½ inches.
"One day I got a text message from the head coach (Darian Dulin) and he was asking me if I could come down on a visit," Whittington said.
The future member of the Red Ravens finally found a weekend where he would be able to see the campus and he came away impressed with the football program's facilities, which included a huge weight room and an indoor practice area.
The trip helped Whittington with his decision, but he said the biggest selling point was his chance to come in and immediately compete for playing time as a freshman defensive back.
"They told me that they lost some of their D-backs from last year and I would have a chance to actually play," he said.
Although Whittington also played receiver for the Chieftains, he said he won't mind playing exclusively on the defensive side of the ball.
"I really like the DB, because I like to hit people when I get the chance," he said.
Whittington has come a long way from his days of being held out due to academic troubles, and he said he is ready to move on to the junior college level.
"Just going to that next step and playing, it's exciting," he said. "I really can't explain it in words. It's just mind-boggling."