3-point barrage helps
THS

girls win by 42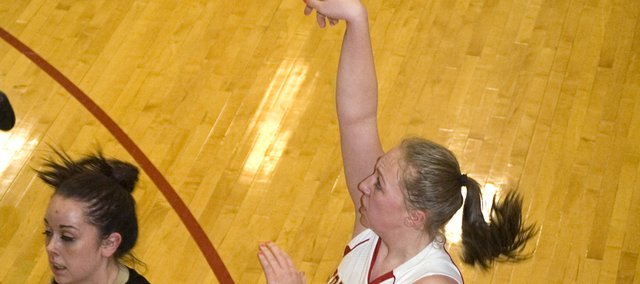 The Tonganoxie High girls basketball team nailed 10 3-pointers Friday and saw little resistance inside, either, on the way to a one-sided, 72-30 home victory over Turner.
The Chieftains got four 3-pointers apiece from junior guards Amanda Holroyd and Haley Smith, plus one from sophomore point guard Hannah Kemp and a surprising Senior Night 3 from center Tayler Miles, who banked home her first ever attempt from behind the arc in the fourth quarter.
Smith, who came off the bench and scored 18 of her game-high 20 points in the second half, was told by Tonganoxie coach Randy Kraft after halftime that he wanted her to hit four 3-pointers.
After the romp, when Kraft saw Smith leave the locker room, he told her: "Next time I'll ask for more."
Smith caught fire late in the game, hitting all four of her long bombs in the final 8:25 of play. She hit one in the final minute of the third, capping a 17-2 run for the Chieftains (9-11 overall, 6-8 Kaw Valley League), and hit all three of her attempts from deep in the fourth.
Holroyd, who finished with 12 points, drained three straight 3-point attempts in the first and second quarters.
Tonganoxie only led by seven after the first quarter, but a 12-0 run to close the second quarter widened the margin greatly.
Holroyd's third 3-pointer of the night began the run. Senior forward Danielle Miller stole the ball and went coast-to-coast for a lay-in, Jenny Whitledge (who finished with 12 points and 10 rebounds) cut to the hoop for a basket and later moved a skip pass to Kemp for a 3 and Tavia Brown hit a pair of free throws.
The victory over Turner (1-18, 0-14) marked the end of the regular season for the Chieftains. At 7 p.m. Tuesday, they will play at Sumner Academy, in Kansas City, Kan., for a first-round sub-state game.
Score by quarters
Turner 14 3 6 7 — 30
Tonganoxie 21 15 20 16 — 72
Tonganoxie scoring
Amanda Holroyd 4-10 0-0 12, Tayler Miles 1-2 0-0 3, Danielle Miller 3-8 2-3 8, Jenny Whitledge 6-9 0-1 12, Hannah Kemp 3-5 1-1 8, Tavia Brown 2-4 2-4 6, Haley Smith 8-11 0-0 20, Madee Walker 0-4 0-0 0, Emma Stilgenbauer 1-3 1-2 1, Parker Osborne 0-1 0-0 0.