Carlisle signs with Washburn football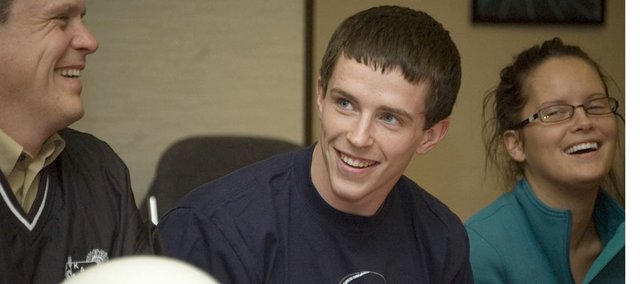 Jeremy Carlisle never has been the biggest guy on the team in his four years as a Tonganoxie High athlete.
Known more for his explosive speed than his stature, his exact measurements were slightly undervalued on Feb. 17, when the Chieftains senior signed a letter of intent to play football at Washburn University, in Topeka.
While introducing Carlisle at the signing ceremony, THS athletics director Brandon Parker was in the midst of complimenting the WU signee for his production as an undersized high school quarterback at 5-foot-9, 160 pounds.
"That's 170," Carlisle quickly corrected him, wearing a grin.
Given his size, Carlisle — a key member of Tonganoxie's football, basketball and track teams the past four years — knew playing college football would be a challenge. He said his passion for the gridiron, though, inspired him to reach that goal.
"Early on in my high school career, I thought track was gonna be my thing and focused on that, then one day I just decided that I wanted to put all of my energy and efforts into football, because that's my love," Carlisle said.
Upon signing with Washburn, he felt confident in that choice.
"Once I decided I was going to do that, there was no doubt, no turning back," Carlisle said. "I feel 100 percent like I made the right decision."
Throughout most of his football days at Tonganoxie, Carlisle played quarterback for the Chieftains. Unsurprisingly, though, he said his future Washburn coaches want him to play as a slot back, wide receiver or return specialist.
Not too long ago, Carlisle was uncertain he would be playing anywhere. He said the recruiting process was discouraging at times because it slowed due to a mid-foot strain which sidelined him a few weeks during football season. However, his recruitment picked up in January and early February, when Carlisle talked a lot with Washburn coaches and set up a visit.
Carlisle said the injury came up during a meeting with WU coaches.
"I told them the complete truth. I said: 'Well, it still hurts from time to time but it's not something that will hinder me at all and it will continue to heal.' They took my word for it and knew that I wouldn't be a liability or a problem," Carlisle related. "It was good to see that kind of trust."
As a freshman, Carlisle said he fully expects to red shirt in his first year with the program. He hopes to learn the pace of the college game in his second season and go from there.
"I really want to earn a starting position my third or fourth year," Carlisle said. "I feel like that's a really good possibility."
Knowing going in that he will have to make a name for himself at Washburn as a returner, slot back or receiver, Carlisle said he understands what approach he must take to become an impactful player for the NCAA Division II program.
"I'm gonna go in and I'm gonna work to be the best and anything less than that is unacceptable," he said.
Making his signing official, Carlisle said, was a huge relief. Now he is just looking forward to enjoying the rest of his senior year — and working on getting bigger.