Tonganoxie boys bounce back in 2nd half, beat Turner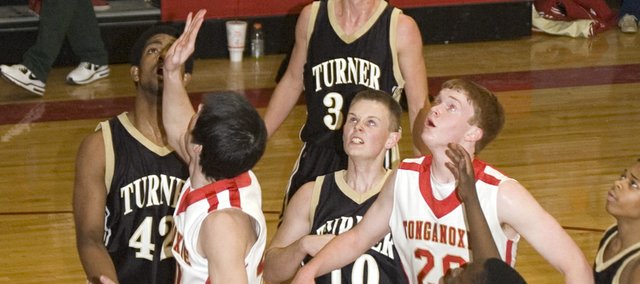 Down at the half to one-win Turner High, the Tonganoxie boys basketball team recovered in the second half Friday to snag a 66-55 home win.
Chieftains senior point guard Jeremy Carlisle played his best quarter of basketball in the third to help his team out of a hole.
Carlisle assisted on two of Tonganoxie's first three baskets of the second half — first, a Colby Yates 3-pointer, then a fast-break layup by Yates — before scoring six straight points himself, all on drives to the basket.
The senior, who finished with team highs of 17 points and seven assists, put an off-balance shot off the glass and through the net with 5:09 left in the third to give his team a 39-37 lead and Tonganoxie didn't trail the remainder of the game.
Junior center Dane Erickson, who scored 15 points, extended the Chieftains' lead to double digits in the fourth quarter with a basket and a free throw with 4:53 remaining.
The game was tied at 15 after a quarter and Tonganoxie (9-11 overall, 4-10 Kaw Valley League) opened the second with a 10-0 run — with five points from Austin Vickers, three from Carlisle and two from Dylan Jacobs — before going cold and scoring just three points in the final 5:21 of the first half, allowing Turner to take a 31-28 lead.
With 10-point outings for Yates and Jacobs, the Chieftains finished with four players in double figures in their regular-season finale against Turner (1-19, 1-13).
Tonganoxie will play host to Jeff West at 7 p.m. on Monday in the first round of sub-state.
Score by quarters
Turner 15 16 13 11 — 55
Tonganoxie 15 13 23 15 — 66
Tonganoxie scoring
Dane Erickson 5-8 5-5 15, Dylan Scates 2-8 0-3 5, Colby Yates 4-6 1-2 10, Jeremy Carlisle 6-18 4-6 17, Austin Vickers 3-4 1-2 7, Dylan Jacobs 5-5 0-0 10, Josh Ghale 0-1 1-2 1, Kody Campbell 0-0 1-2 1.