Chieftains drub
JWHS

, advance to 2nd round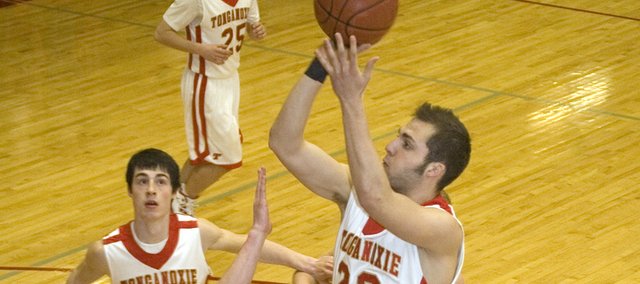 Photo Gallery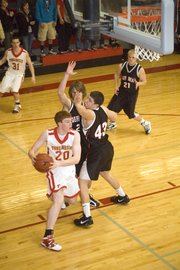 Chieftains pummel Jeff West
The Tonganoxie High boys basketball team knocked Jeff West out of sub-state with a 79-52 home win on Monday night.
Problem solving isn't for everyone.
If there was a solution to defending the conundrum that was the Tonganoxie High boys basketball team on Monday night, Jeff West couldn't find it.
With the Chieftains' senior point guard Jeremy Carlisle leading the way, THS dissected the Tigers' defense time and again in the first round of sub-state and wrecked the Tigers, 79-52.
Carlisle had 11 first-half points but finished with a game-high 33 in the final home game of his career thanks in large part to a 13-point third quarter, when he didn't miss a shot.
THS (10-11) only led by eight at halftime before Carlisle scored five of his team's first seven field goals in the third quarter (junior forward Dylan Jacobs scored the other two) and the margin doubled.
Chieftains coach Shawn Phillips said the Tigers were struggling to defend Tonganoxie's ball screens and that allowed Carlisle to go off in the third and get easy shots for himself or his teammates — Austin Vickers, Colby Yates, Brennen Williams and Josh Ghale also scored in the third, helping the home team extend its lead to 20 entering the fourth.
Carlisle hit pull-up jumpers for his first two baskets of the second half, but then started attacking the paint off the dribble every time he got a ball screen, which Phillips said led to his 12-for-15 shooting night.
"They weren't stepping to stop him, so he just shot layup after layup and we were going to keep doing it until they decided they were going to figure out how to stop it," the coach said. "He shot the ball well, but he got a lot of quality looks and finished them."
The third-quarter layups, Carlisle said, got him in a flow.
"Most of the time when scorers get on a roll, they start off by hitting layups and and-ones and mid-range jumpers," he said. "I didn't have to move back too much (for longer shots), fortunately, in this game."
The floor general did bury a pair of 3-pointers in the win, but he said he preferred getting drives, because then he didn't have to concentrate on shooting mechanics and could rely on his athleticism.
"That's great to have as a player," Carlisle said of the option to drive. "All you have to worry about is: Go through the contact, if there's contact finish high."
As crucial as Carlisle was in the second half, Dylan Scates was equally important early, setting the bar high with an energetic approach. The senior guard scored three of his team's first four baskets, scoring seven points in the first four minutes, which pleased Phillips.
"We talked about energy level when we come out to play and he definitely came out and played well right from the very beginning," the coach said.
Scates said everyone on the team was playing with a must-win mentality in the postseason opener.
"I didn't want to be denied," he said of the victory. "That's pretty much how we all played tonight."
After Scates' hot start, most of his energy went to grabbing rebounds and he finished with 10 points and 10 boards.
"That's what our team needs," Scates said. "We don't have that one set rebounder who kills everyone on the boards, so we all have to get our fair share of rebounds in."
Pitching in on the glass for THS against Jeff West (8-13) was Yates, a junior guard. He finished with five rebounds to go with four assists and four points while defending the Tigers' top player, Cory Brown. Phillips liked that Yates was able to do a little bit of everything.
"Colby's just a stat-stuffer," he said. "The end of the game you look and he contributes in just about every category. He's been good like that all year long."
The Chieftains won by 27 without their typical production from junior center Dane Erickson, who got in early foul trouble and finished with 11 points and six rebounds.
The first-round sub-state win advanced THS to a 6 p.m. Thursday semifinal at Piper, in Kansas City, Kan., where No. 4 seed Tonganoxie will face No. 1 Sumner Academy (18-3).
Phillips said his team will be prepared for one of the best teams in Class 4A.
"We're gonna play a team that's really good. They're ranked No. 1 in the state overall by some people, and it's not going to be easy," Phillips said. "They're gong to be athletic, they're going to come and try to really guard us, but we're up for the challenge."
Score by quarters
JWHS 15 13 14 10 — 52
THS 22 14 26 17 — 79
Tonganoxie scoring
Dane Erickson 5-7 1-2 11, Dylan Scates 4-9 1-3 10, Colby Yates 2-3 0-1 4, Jeremy Carlisle 12-15 7-8 33, Dylan Jacobs 3-4 0-2 6, Austin Vickers 2-5 0-0 4, Brennen Williams 1-3 2-2 5, Josh Ghale 3-4 0-0 6, Brady Waldeier 0-3 0-0 0.