Seniors step outside comfort zone in 42-point 'W'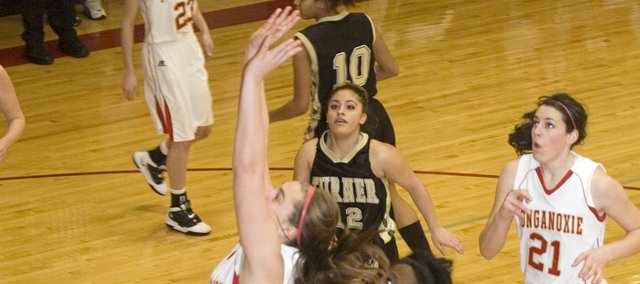 Tonganoxie High girls basketball seniors Tayler Miles and Danielle Miller traditionally do their damage in the paint.
The Chieftains' two seniors had scored almost all of their field goals this season on post-ups, drives or the offensive glass.
However, coach Randy Kraft nixed the norm Friday in the fourth quarter of Tonganoxie's 72-30 thrashing of Turner on Senior Night.
Miles said Kraft had specific instructions for them in the fourth quarter, which began with Tonganoxie enjoying a 33-point lead and a running clock.
"He told Danielle and I that we had to shoot a 3, so we didn't really have a choice," Miles explained.
A 6-foot center more accustomed with jump hooks on the block than jump shots from long range, Miles took the first 3-point attempt of her high school career and banked it in from near the top of the key, much to the enjoyment of her teammates, who jumped out of their seats when the ball bounced off the backboard and went through the net.
Miles said she was just following through with an order after she and Miller were reluctant to fire up a 3-pointer on the first few possessions of the fourth quarter.
"We got in trouble for standing inside, so I had to step out and I was really afraid it was gonna air ball, but I banked it in thankfully," Miles said.
Miller didn't get a similar fortunate bounce on her 3-point attempt, a misfire, but Kraft was happy to see his two seniors enjoy themselves.
"It was kind of fun for our seniors," the ninth-year Tonganoxie coach said after his team's 42-point victory against Turner (1-18 overall, 0-14 Kaw Valley League). "You don't always get this opportunity on Senior Night to finish off the way they did, so that was pretty cool."
With a quick start, Miller scored six of the Chieftains' first 10 points. Miles complimented her teammate for setting the tone.
"She really does a good job of picking up the team," Miles said of Miller, who finished with eight points and six rebounds.
Miles wasn't the only player hitting from long range in the lopsided victory. Though Tonganoxie (9-11, 6-8) hit just one 3-pointer in the first quarter, the home team finished with 10 long-distance buckets.
Junior shooting guard Amanda Holroyd had the first three makes from behind the arc on her way to four 3-pointers and sophomore point guard Hannah Kemp, who passed out six assists, hit one late in the second quarter.
Then junior guard Haley Smith, who came off the bench to score a game-high 20 points, got hot and went 4-for-4 from behind the arc in the final nine minutes of the game.
Said Kraft: "Haley was feeling it and we just let her roll. We've got some kids that can shoot."
The Chieftains had players executing inside, too. Sophomore forward Jenny Whitledge scored 12 points and secured 10 rebounds with efficiency, her coach said.
"Jenny had a double-double tonight and very quietly scored her points, most of them on boards and stuff," Kraft said.
With six players scoring six points or more, Miles characterized the regular-season finale as a total team effort.
"We all really put it together tonight," she said.
The victory over Turner was Tonganoxie's fourth in the final six games of the regular season. The Chieftains lost at Bishop Ward without Whitledge, who was injured, and fell in overtime at home against Bonner Springs.
Postseason play begins for Tonganoxie at 7 p.m. on Tuesday, when the Chieftains, the No. 6 seed in their sub-state bracket, play at No. 3 Sumner Academy (14-6), in Kansas City, Kan.
Score by quarters
Turner 14 3 6 7 — 30
Tonganoxie 21 15 20 16 — 72
Tonganoxie scoring
Amanda Holroyd 4-10 0-0 12, Tayler Miles 1-2 0-0 3, Danielle Miller 3-8 2-3 8, Jenny Whitledge 6-9 0-1 12, Hannah Kemp 3-5 1-1 8, Tavia Brown 2-4 2-4 6, Haley Smith 8-11 0-0 20, Madee Walker 0-4 0-0 0, Emma Stilgenbauer 1-3 1-2 1, Parker Osborne 0-1 0-0 0.