THS

boys earn Senior Night win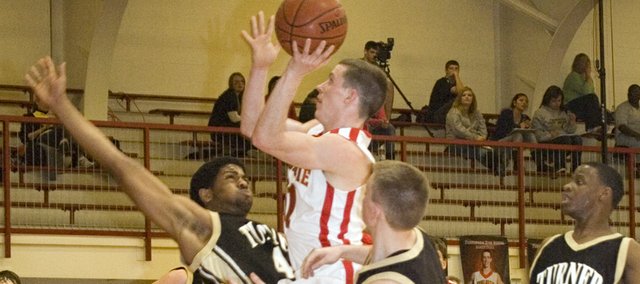 A mercurial regular season ended on a high note Friday for the Tonganoxie High boys basketball team.
The Chieftains' three seniors — Jeremy Carlisle, Dylan Scates and Austin Vickers — went out in style with a 66-55 home win over Turner on Senior Night.
Coach Shawn Phillips said getting a victory in the final regular-season home game provided the team's three seniors with a worthy sendoff.
"Ever since I've been here, I've tried to stress the importance of Senior Night, and you never know what that really means to you until you are a senior," Phillips said. "Those three guys have worked hard, been great kids — I've never had any real issues with them whatsoever — and for them to get a win was important."
Carlisle led Tonganoxie, which finished the regular season with a 9-11 record overall and a 4-10 mark in the Kaw Valley League, with 17 points and seven assists, while Scates went for five points and four rebounds and Vickers finished with seven points and seven boards.
Vickers got the starting nod on Senior Night after spending most of the season as a substitute. He said the occasion sparked his enthusiasm.
"I feel like I did come out with a little more fire, just because it was Senior Night, but I should've been playing like this the entire season," the senior swingman said.
Although Vickers and Scates began the season in Tonganoxie's starting lineup, Phillips moved the seniors to the bench in January. Vickers said he had to adjust to his new role.
"At first it was a little bit tough coming off the bench as a senior," Vickers said. "It means a lot to have a starting spot as a senior and then when you lose it, you're like, 'Wow, this is kind of depressing,' and it makes you not want to play, but I think for me and Scates it made us feel like we needed to play harder and come out harder every single night and work our butts off."
Scates returned to the starting lineup early in February. Phillips said the 6-foot-1 senior guard has done well on the glass for the Chieftains in the latter part of the season and has focused on getting to the rim on offense.
"Scates has been a guy that when he's played well, we've really played well," the coach said. "He's a kid that's usually the last one to leave the gym every single night and he's been a pretty good shooter at times."
As a junior, Vickers was a bit of a specialist for Tonganoxie, but Phillips said the 6-foot-2 swingman has worked on doing more for the team as a senior.
"Vickers was our spot-up shooter last year and he's had to stretch his game a little bit and become more than just a spot-up guy," Phillips said.
Vickers scored three layups against Turner (1-19 overall, 1-13 KVL) and secured seven rebounds, which his coach said is a strong number for a perimeter player.
"He played with a little more confidence and he had a really good game," Phillips said of Vickers.
A few non-seniors stood out in the victory, too. Junior post players Dane Erickson (15 points, five rebounds) and Dylan Jacobs (10 points, three rebounds) made an impact inside and junior guard Colby Yates scored 10 points. Phillips said the whole team helped Tonganoxie's seniors secure the Senior Night victory.
"It's one thing to go play for yourself, it's another thing to go play for other people," the coach said. "We tried to make sure everybody played so that our seniors could go out with a happy moment on a night that's supposed to be dedicated to them."
Vickers said the seniors appreciated the win.
"It's a really special thing," Vickers said. "It means a lot to us, to all the seniors, not just me."
At 7 p.m. on Monday, the Chieftains play host to Jeff West in a first-round sub-state game.
Score by quarters
Turner 15 16 13 11 — 55
Tonganoxie 15 13 23 15 — 66
Tonganoxie scoring
Dane Erickson 5-8 5-5 15, Dylan Scates 2-8 0-3 5, Colby Yates 4-6 1-2 10, Jeremy Carlisle 6-18 4-6 17, Austin Vickers 3-4 1-2 7, Dylan Jacobs 5-5 0-0 10, Josh Ghale 0-1 1-2 1, Kody Campbell 0-0 1-2 1.