Chieftains' substitutes try to make an impact when called upon
Lean, Williams, Yates lead
THS

bench players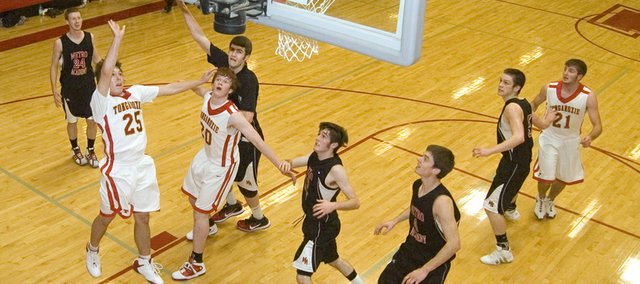 They might not get to run out onto the court during pre-game introductions. They might not be top offensive options. Heck, they might not even score.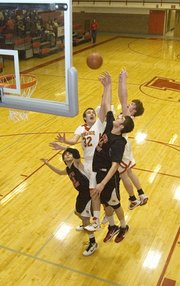 Their names are Ben Williams, Colby Yates and John Lean, and they are the first players off the bench for the Tonganoxie High boys basketball team.
Each of the three has embraced his role as, well, a role player. There aren't many awards for cameo appearances, but they understand their part in the Chieftains' success. Lean, Williams and Yates want to be productive in some facet of the game, and they certainly don't mind not starting.
"I think it's a little bit easier," said Yates of subbing into a game.
Added Williams, an undersized post at 6 feet: "We don't have the pressure. We know we're not going to be the leading scorers and we can have a significant role on the team."
Lean said they aren't required to match the scoring output of a Dane Erickson or Jeremy Carlisle.
"You don't have to be a star," the sophomore guard said. "You just play your role."
That's exactly what THS coach Shawn Phillips expects from the trio, too. He said each player brings something different to the lineup and his expectations for what that entails varies for each player.
When Phillips sends in Williams, he knows the junior will bring energy and a solid approach.
"He does everything that he's supposed to do. He's just one of those guys that when he's in, you know he's going to do the right thing, so you don't have to worry about things going crazy when he's in there," Phillips said. "He always plays hard. He gives you maximum effort all the time."
Lean is another effort guy for THS — "I just try to come and get some hustle points," he said of his approach. Phillips agreed, and said the 5-foot-9 backup possesses a natural feel for basketball.
"He's one of those kids that happens to be at the right place at the right time, it seems like," the coach said. "He can get a hand on a loose ball, he can finish."
The Chieftains coach thinks highly of Yates, the No. 2 point guard, as well. In fact, Phillips had a talk with the junior before the team's win against Metro Academy on Dec. 20, because he wanted Yates to attack more.
"He's a kid who we thought could probably help us by scoring the basketball a little bit this year and that's something that he's kind of had to try and learn … to be more aggressive and assert himself on the offensive end of the floor," Phillips said. "In our first couple of games, I think he was worried more about just fitting in instead of taking on a role of being an important part of what we're trying to do."
After the meeting with his coach, Yates said he made a conscious effort to play harder. That led to a seven-point night, the highest scoring total for a Tonganoxie sub in the team's first four games.
Each of the three bench players noted giving starters a breather as one of their main objectives, but given the lack of statistical productivity (the Chieftains' high total for total bench points in a game was nine in December, when THS was 2-2) from the subs, Phillips would like to see them become weapons, not just spare parts.
"They know they're not the primary option, but they need to be an option," the coach said. "We're starting to figure that out, and that's good, because we need somebody to step in and score anywhere between six to 12 points on any given night."
Other options
The Chieftains' three primary substitutes haven't been the only ones to play this season. Eric McPherson, Brennen Williams, Dylan Jacobs and Kody Campbell also have played varying minutes this season. Phillips said an eight- or nine-player rotation seems ideal for him and he likes the potential of his options.
"I feel like we've got more depth, overall, this year if kids play to their capabilities," he said. "We're still trying to bring some of those kids along."
One such player has been McPherson, a 6-4 freshman who has come in at times and successfully altered shots or grabbed a rebound or two. Phillips said the frosh isn't afraid of the varsity action, but he just needs time to mature — and not be 15 years old anymore.
"Eric, he's gonna be very good by the time it's all said and done, when his career is over," Phillips predicted. "Right now he's just a freshman trying to play with juniors and seniors, and that's pretty tough to do — a lot of people might not realize that."
The coach said he is still trying to determine where other players might fit in the rotation, so the Chieftains can extend their bench even more.
"People have got to go earn that," he said of playing time. "Until they earn it, they're not going to have those opportunities."
Phillips' biggest concern regarding the bench, though, is making sure the subs impact each game — in a positive way and a big way.
"We've got to develop some consistency out of them, where every night we're getting something, because there's gonna be times where somebody's in foul trouble or there's an injury and somebody's gonna miss time," Phillips said. "We need someone that can fill a spot and be able to contribute."