Local teen reports of journey to Costa Rica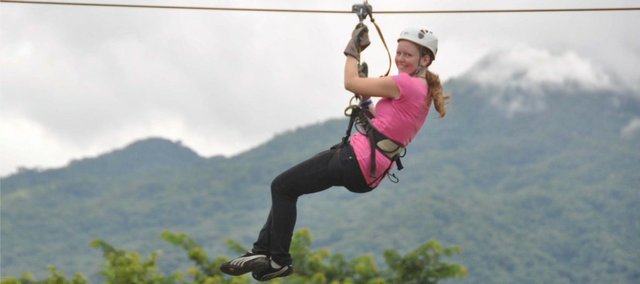 Editor's note: This is first-person account from Hannah Davidson, a senior in the Kolbe Academy homeschool program and 4-H member who traveled this past summer to Orotino, Cost Rica.
My Adventures in Orotina,
Costa Rica – Summer 2010
By Hannah Davidson
This summer, I, along with 15 other U.S. teens, had the opportunity of a lifetime to travel to Costa Rica as a delegate of the Kansas 4-H International Exchange Program. Twenty states across the nation participate in the 4-H International Exchange Program and "provide young people with international, educational experiences to help them develop positive cross-cultural attitudes and communication skills that encourage lifelong friendships, mutual understanding, and acceptance of all peoples." More than 7,000 American youth have made visits to countries including Japan, Australia, Finland, Costa Rica and Norway through the 4-H International Exchange Program. Opportunities to travel abroad for Kansas 4-H members and alumni between ages 12 and 26 are coordinated by the Kansas 4-H Exchange Programs, and are conducted by Kansas IFYE association.
The exchange to Costa Rica is coordinated between 4-H in the United States and 4-S in Costa Rica. 4-S (Fundacion Nacional De Clubes 4-S) is the counterpart to 4-H in Costa Rica. Similar to the 4-H pledges of head, heart, hand, and health, 4-S pledges the four S's, which stand for Saber, meaning knowledge, Sentimientos, meaning feeling, Servicio, meaning service, and Salud meaning health.
I was placed in a home in Orotina, Costa Rica, which is a small, comfortable town with a population of 8,550 and situated on a relatively flat section on the west side of the coastal mountain range. It is a mere 16 miles northeast of the Pacific Ocean and 41 miles from the Costa Rican capital city of San Jose. The center of town, directly across from the Catholic Church, where I attended Mass with my family, is a beautiful park with many lush palms trees. It is a popular place where many carnivals and festivals occur, and a safe place for people to gather, relax, and talk. This park was a central gathering place for many of my Tico (Costa Rican) friends and I have lot of good memories of time spent in this park. Surrounding the park is downtown Orotina, which is made up of many small shops of all kinds. I, together with several other U.S. girls and Tico friends, had a lot of fun walking around downtown to the various shops. Something that we Americans found funny was that there were several stores named "Ropa Americana" or "American Clothes." The clothing and accessories stores were all very small and seemed to have a random selection of items. They weren't organized like a standard clothing store in the U.S., but more like what a flea market or thrift store might be. There are several popular ice cream shops that surround the park and one shop, that was our favorite and that we went to almost every day, was called "Heladeria Danny." I always got a scoop of coconut and scoop of coffee. While shopping in local supermarkets, it is the custom in Orotina to put purses or bags in lockers at the front of the store while shopping. Other than the lockers at the front of the store, the supermarkets and grocery stores are similar to average small stores in the U.S with a few minor exceptions. For example, the milk is not refrigerated before it is opened and is sold on the shelf. In addition, it is not uncommon for a smaller store selling lotions, cosmetics, or over the counter medicines to have all their products behind a counter. If you want to purchase something, you have to ask the clerk to get it for you. Other businesses in downtown Orotina are a pharmacy, a bank, government offices and a hospital that is very small with just a few doctors. They also have vegetable and fruit markets that we visited every few days to stock up on fresh produce. The variety was huge, and they have some interesting things to choose from.
In the neighborhoods, the houses are very close to each other. The houses in Orotina all have at least some concrete or cinderblock walls. All the houses that I visited have tile floors, which would be easier to take care of in the humid, rainy season. It is rare for a Tico house to have carpeted rooms. The houses are designed so the windows can be open even when it rains, allowing good ventilation, and eliminating the need for air conditioning. Some of the walls don't go all the way to the ceiling, but are open at the top to allow air to move through. The living rooms are open to the outside and resemble a covered porch that one might find on a house in the United States. None of the houses has numbered addresses as we have in the U.S. Just about all houses are located in terms of a well-known building or landmark such as the local Catholic Church, cemetery, or another fixed location. For example, to send something to my host family's house, it would be addressed as: The papaya colored house, 100 meters north of the cemetery, in the neighborhood of Barrio El Carmen, Orotina, Alajuela, Costa Rica. 20901. Even though the houses are simple, small, and without "frills", they are very comfortable and tidy living spaces where families and friends spend a lot of time together.

It is possible to walk almost everywhere in Orotina within 20-30 minutes. It is not common for a family to own a car and the families who do usually do not use them to get around town. The most common way to get to your destination is either to walk or ride a bike. It was the rainy season while I was in Costa Rica, and everyone carried around umbrellas with them at all times. The Ticos didn't seem to like getting wet, so when it barely started to sprinkle, they would whip out their umbrellas, trying to ensure that they wouldn't get even the slightest bit wet — even if they were riding a bike! When they did drive, there didn't seem to be too many rules of the road. Road signs seemed to be more of a suggestion than a law. There were police cars around but I never saw them pull anyone over in Orotina. The only time I saw someone pulled over was in San José and my host family reacted as if it were a huge deal that someone was getting a ticket. The most common form of motor transportation in Orotina is by taxi. There are several taxi stands throughout the small town of Orotina and many, many taxies. One day, my host mom and I were on a walk and she took me to the grocery store. After getting our groceries, it was clear that we had way too many to carry all the way back to the house, so she called a taxi. I assumed that we would load the groceries into the taxi and get in to ride home. However, after loading up all the groceries, she gave the taxi driver directions to our house and he drove off with our groceries to drop them off at our house. We then continued shopping and walked home! Most of the roads are asphalt with cement sidewalks alongside them. Between the roads and the sidewalks, there are ditches that are anywhere from 6 inches to a foot wide for rain drainage. The roads have many potholes and the sidewalks are crumbling apart in some places and overgrown with grass in other places.

The family that I had the privilege of living with for a month has four members: Jeannette (my host mom), José (my host dad), Marianne (my host sister, age 19), and Miguel (my host brother, age 16). The parents preferred that I call them by their first names. They have four dogs, two cats, two birds and six fish. They live in a typical neighborhood of Orotina. Jeannette is a homemaker and teaches religion at the Church weekday nights and José works for the agriculture department of Orotina. Marianne is studying at a local university to become a nurse and Miguel attends Ricardo Castro Beer High School and hopes to study to become a veterinarian. In general the families seemed to simply own less stuff than the average family in the U.S. Nevertheless, they all seem perfectly content with what they have and are very cheery people.

Their culture seems less materialistic and more sentimental than ours. In their free time, Ticos generally relax and do not over-schedule like Americans. Typically, they like to play video games, surf the Internet, take a walk with friends or just hang out at the park. Some are involved on the local soccer or dance team. They all are very close to their family and friends. They are very hospitable and always made sure I was well taken care of. Because we were able to walk anywhere we wanted to go, it wasn't uncommon to walk over to a friend's house on very short notice to hang out and have a good time. My host family's house seems to be a common place for the teens in the neighborhood to hang out. They freely walk in and out of each other's houses and it isn't uncommon for someone to drop in for a surprise visit. The Tico people are very friendly and very welcoming people and it is not unusual for a Tico to greet you with a hug and a peck on the cheek, even if you are meeting them for the first time. Their sense of personal space boundaries is much smaller than what we are used to in the United States and they tend to look at you in a very direct manner while they are speaking to you. While Costa Ricans are very talkative, they also have many hand signals and whistles that they use to communicate with each other. Because I wasn't always able to communicate everything with words, learning the basic hand signals and whistles that they used facilitated communicating with my family and friends. Costa Ricans are really interested in talking with exchange students and they asked many questions about the U.S. and how it compares to Costa Rica. They also know a lot about U.S. pop culture. As part of my cultural exchange project, I made a CD with famous, classic songs that were hits in the U.S. from each of the decades starting with the 1950s through the present. I was surprised when my family knew the words to nearly all of the songs. Even though they didn't always understand the meanings of the lyrics, they were able to sing along. In the Costa Rican world, Aerosmith, Metallica, Justin Bieber, the Jonas Brothers, Hannah Montana and the like are all very popular. Ticos also take a lot of pride in their appearance. They spend a lot of time getting ready and consider their appearance to be something of great importance. Even getting ready to do something as simple as going to the grocery store involves a lot of preparation. Because it is hot in Orotina, the ideal shoe is a sandal of some sort. However, it is also easier to get your feet dirty while wearing sandals. They are a very clean people so all the showers in Costa Rican homes have a small spout about a foot off the ground for the purpose of cleaning their feet as needed throughout the day.

The typical Costa Rican diet is pretty basic and usually consists of various varieties of rice, beans and a small portion of meat. They only lightly season their foods. They really like various tropical fruit drinks along with Coke and Fanta. No one seems to like milk other than in coffee. They don't eat many sweets, as candies are considered a treat. The cookies I bought there had much less sugar than the ones I am used to eating in the United States. They love vegetables and fruits. Overall they have a very healthy diet. In the house that I stayed in, it was rare for the entire family to sit down all at once to eat meals. Because of this, there would always be a pot of rice and a pot of beans that had been prepared in the morning in the kitchen ready to be heated up so that each family member could go prepare themselves a meal when they were ready.

One evening my Tico friends decided to order "comida rapida." I found out that literally does mean "fast food" when our meals were delivered by a man on a motorcycle!
I was able to attend the high school for several days in order to see what a typical Costa Rican school is like. At the school, all the students wear light blue collared shirts with dark blue slacks. All of the hallways are tiled outside walkways with an overhang over most of the pathways. The classrooms are lined up along the tile walkways and are completely open. There isn't glass on the windows, only bars to allow a breeze into the room. Students seem to be placed in classes based on their proficiency in the subject rather than their age. The schools have the same subjects as in the U.S. such as math, science, grammar, and foreign languages, but they seem to place a heavier focus on the hands-on, vocational classes that might help them get a job after they leave school, such as sewing, farming, and agriculture. Something that I found rather surprising was that the school has several dogs that live on the grounds that wander around the school sleeping in the hallways. Behind the classrooms are cages with birds, a raccoon, an alligator, turtles, iguanas, a butterfly farm and chickens that roam the grounds. There are also fields and gardens that the students tend to as part of their agriculture class.

The representatives of 4-S (Fundacion Nacional De Clubes 4-S) did a great job of making our stay in Costa Rica fun and exciting by providing us with many wonderful experiences. Among the things we got to experience were trips to the rainforests and the cloud forests, a couple trips to several beaches, zip lining, visiting a volcano, and attending 4-S camp.
While in Costa Rica I had the opportunity to attend 4-S camp. One of the biggest differences between a 4-H camp in the U.S. and a 4-S camp in Costa Rica was the amount of structure. A 4-H camp in the United States has a very full schedule and a lot of structure to keep campers busy, while a 4-S camp has a surprising amount of down time with few planned programs and activities. In addition, most of the teens who attended camp were boys. To my surprise, there were few Costa Rican girls who attended 4-S camp.
I had so many great experiences while I was on my exchange that it would take me many more pages to list them all. It truly was an opportunity of a lifetime and I would recommend it to everyone! For those 4-Her's in Kansas who are interested in finding out more about the program, visit the Kansas 4-H website at kansas4h.org/DesktopDefault.aspx?tabid=64. One can also contact their local Extension Office or contact Mary Kay Munson, Kansas 4-H International Exchange Coordinator at 785-238-3631 or e-mail munson@ksbroadband.net.