Running the point
Tonganoxie girls rely on PGs Kemp, Walker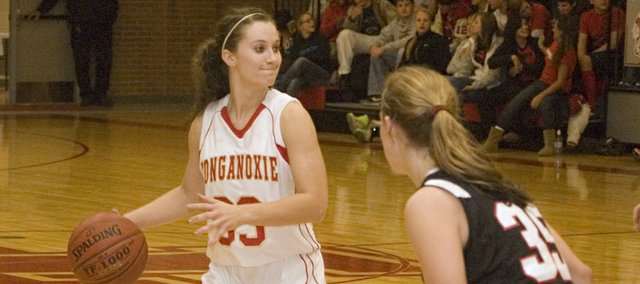 It's not easy being a point guard.
On the hardwood, coaches scrutinize over that one position more than any other. A point guard can dictate how the rest of the team plays and whether the night will end with a win or a loss.
When a game is on the line, Tonganoxie High girls basketball coach Randy Kraft needs composure and ball control from his team. That begins and ends with the point guard.
This season, the Chieftains have two primary lead guards — starter Hannah Kemp and backup Madee Walker, both of whom are sophomores.
Kraft wants to see both players embody the point guard mentality, which involves a team-first approach and on-the-floor leadership. Kemp has a head start on building those characteristics after seeing plenty of action last season as a freshman. The more she plays the point, the more comfortable she gets with disregarding her own scoring.
"When you're a point guard, I always try to look for who's open and who can make the shot that we need," Kemp said.
One time down the floor, she might be looking to Amanda Holroyd for a drive. The next possession, it might be on her to find Haley Smith for a jumper or feed Danielle Miller on the baseline. Regardless of the play, Kemp said she wants to put her teammates in the best position to succeed.
"Everyone has their own sort of area that they specialize in," Kemp said. "You learn what everyone is comfortable doing, and what they're best at."
Kemp is working at defining herself as a point guard, and she is comfortable with everyone else residing in the scoring spotlight. Through four December games, she had taken just 13 shot attempts and dished out 11 assists. Plus, often times the pass she makes leads to another teammate's assist.
"From transitioning into this role, I sort of look for the pass more — way more — than I look for the open shot," she said.
Kraft said both Kemp and Walker are still learning all the intricacies of running the team. After all, there is much more to playing point guard than calling out plays and distributing the rock. He wants each of them to be an extension of him on the floor and said it's a work in progress, even for the more experienced Kemp.
"She's got a long ways to go, but she's come a long ways," the coach said of Kemp. "Point guard's a tough spot, because you're responsible for about everything out on the floor and you're going to get yelled at if things aren't going right. It's up to you to make sure that everyone's on the same page."
Late-game leadership
The importance of that role multiplies greatly at the end of a close game. Tonganoxie (2-2 entering Tuesday's game at Bonner Springs) played three tight contests in its first four games, winning one by six and dropping two others by three. Because of that and the youth of the team — Miller and Tayler Miles are the only seniors — Kraft said he has worked more on late-game scenarios with this team than with any other in his 25 years as a head coach.
In the final minutes of a one- or two-possession game, Kraft said his point guards need to communicate with everyone else and allow the team to be confident in the situation by making the best decision for the team — whether that is getting an easy bucket, not fouling or simply protecting the basketball.
"They've got to understand the situation and they've got to let the rest of the team know what's important," Kraft said.
Kemp said she has to do what Kraft would do or say what he would say if he was on the court.
"We're supposed to be the coach on the floor," she said.
Walker adapting as backup
That has been the toughest part of playing point guard for Walker. However, she said she is becoming more comfortable with knowing the exact assignments for all of her teammates on each play.
"If I don't know them, it's hard for everybody else to run them," Walker said. "At first I was really nervous and kind of scared, but it's getting a lot better."
Kraft said Walker played a lot of point guard for the freshman team a year ago, so it's not a completely new concept for her. Still, he knows she has had to adjust, because the varsity game is a big step up and Walker isn't as experienced as many of her teammates.
"She doesn't start, she doesn't get the minutes some of the other kids do, so when she goes in the game it's a little different to be giving instruction to the other players," Kraft said, adding that Walker has adapted well.
Before the season began, Walker said she didn't even think she would be playing meaningful minutes for the Chieftains. Now she has a critical role as the backup point guard.
"It's been pretty tough, actually, but I think I'm getting used to it," she said.
Kemp praised her fellow sophomore for giving THS another option at the point.
"She can really handle the ball and she's fast and can play good defense," Kemp said, "so she's someone we know we can rely on."
Better things to come
Kraft doesn't think any position or player on the team is perfect, and point guard is no exception. The coach wants his floor generals to develop throughout this season by making the team more communicative and cutting down turnovers. And he expects them to deliver — "That's gonna get better and better, and I think we're gonna be pretty darn good by the end of the year," he said.
Even more exciting for the coach is the knowledge that Tonganoxie hasn't shown an abundance of problem areas while playing two sophomore point guards on a young team.
"It's a great feeling knowing we're being competitive with everybody we're playing and making a ton of mistakes that are just mistakes that are gonna be made by young kids," Kraft said. "If they can play at that level making mistakes… It's very promising for the future."