Suburban Water to pitch water service to new industrial park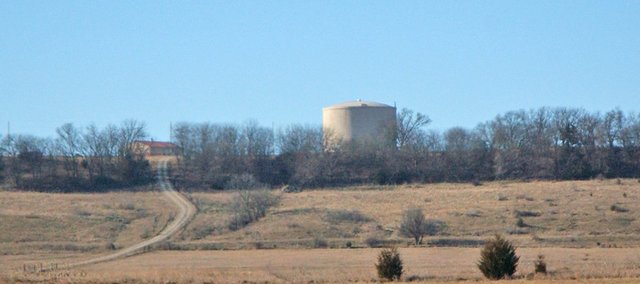 The Tonganoxie City Council has a busy week ahead with Monday's regular meeting followed with two special meetings concerning the Leavenworth County Road 1 industrial park.
The council will meet at 7 p.m. Wednesday, Jan. 12, at the Council Chamber to hear from Suburban Water officials on three options to partner in supplying water to the 237-acre industrial park.
The second special meeting set for 6:30 p.m. Thursday, Jan. 13, at Bichelmeyer's Steakhouse was requested by Mark Waterhouse, the consultant the Leavenworth County Port Authority hired to do a market study of the new Tonganoxie industrial park and a 13-acre park the city of Leavenworth is developing on the railroad between Kansas Highway 7 and the Missouri River. The meeting will include the council, city staff, the city engineer and the industrial park committee.
"I think he wanted to have a sit down with local leaders to learn their visions and attitudes on the industrial park," City Administrator Mike Yanez said.
By contrast, the meeting with Suburban Water will require the council at some point to make a decision about the industrial park's development. Suburban Water is a private utility that provides water to Basehor and rural areas north to Interstate 70 and south of U.S. Highway 24-40 and east of CR1.
At the meeting, Suburban Water officials will present three proposals, making it a partner in any future water service at the park. All the proposals from Suburban Water would take advantage of the water line the private utility has in place along Kansas Avenue, the northern boundary of the industrial park, and its 1.5 million gallon water tank on the hill overlooking U.S. Highway 24-40.
The options are:
• An agreement to lease the city 25 percent of the storage tank's capacity, or 375,000 gallons, for 20 years. Suburban would also provide water transmission service to the park.
• An agreement to provide water storage, transmission and water on an as-needed basis with the water sold to the city at a negotiated wholesale price.
• An agreement to pay the city a franchise fee for the right to provide retail water service to the park.
Yanez said council would have to balance the up-front cost of the city extending lines and building a water tower at the park at an estimated cost of $1 million against future water department revenues from the industrial park.
"It's just going to be a policy decision for the policy makers," Yanez said.