THS

wrestlers nearly done with break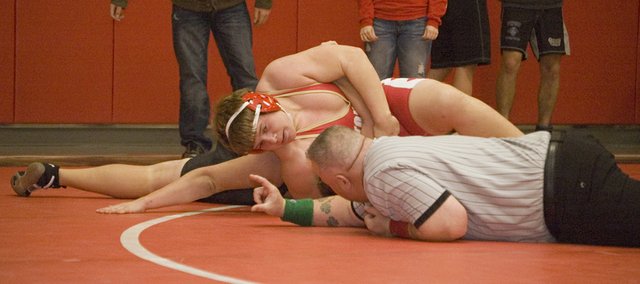 The holidays are over, and for the Tonganoxie High wrestling team, that means the end of a pretty nice break in the schedule.
When the Chieftains head Saturday to Louisburg for their first action of the new year, it also will mark their first time competing in 21 days.
With the winter break, too, comes a week off from practice. So before THS wrestlers departed, coach Jeremy Goebel warned them to be mindful of falling into an easy holiday trap and allowing the time off to affect their fitness.
"You've got to do something outside (of practice)," Goebel said. "In the break, when we weren't able to practice, it was important for them to get a workout, just get their blood flowing."
Mainly, the coach didn't want them sitting around on the couch or being lazy during their practice-less week. He encouraged them to run a mile or two on the THS track at Beatty Field, but said even that wouldn't be enough to completely maintain the athletic level the wrestlers had reached prior to the break.
"Wrestling compared to running's a whole different story," Goebel said Thursday, at practice. "Being here (in the wrestling room) is a different shape than being out on the track."
THS sophomore Thomas Miller, 171 pounds, agreed that maintaining conditioning during the break wasn't easy. He said the thought of falling behind was a motivating factor.
"You get that first week off and if you don't do anything you really lose a step," Miller said. "What you've been working for this whole time, it just goes away."
Once the wrestlers returned to practice this past week, he added, the rigors differed from other physical activities.
"It's hard, just getting back in shape," Miller said.
Tonganoxie junior Jonas Myers, the team's 189-pounder, said neither he nor his teammates wanted the break to negatively impact them.
"It's definitely harder without practice and stuff, but I don't think a lot of guys worry about it too much," Myers said. "Once you're in this good of shape, a couple of days is not a big deal, especially since a lot of the guys go on runs and stuff and work out at the gym. It's good to get some R and R and rest up."
The Chieftains' senior heavyweight, Hank Somers, said it wasn't difficult for him to get back to practice after the hiatus from everyday wrestling, because being on the mat fired him up.
"The adrenaline just takes over," Somers said.
Somers wasn't the only Tonganoxie grappler eager to get back to work. Goebel said he saw renewed enthusiasm from the whole team at practices.
"This week's been a great week," the coach said. "We've had some good practices. Usually when you don't have something for a while and you come back, you have that little bit of extra fire in you."
The wrestlers haven't competed since their home invitational on Dec. 18. Myers said he is looking forward to the next two months, when there won't be breaks like there were in November and December for holidays, because the wrestlers will be able to stay more focused.
"There's no distractions," Myers said of the several upcoming weeks. "The first half of the season, it's kind of harder to get in that mode."
As Tonganoxie makes its way toward the postseason, Somers said the success the wrestlers had in December will help them.
"I think we have a really good chance to do whatever we set out to do," he said.
Once matches begin on Saturday at Louisburg, the amount of work the Chieftains did during the winter break will determine their success, Miller said.
"Everything you do in practice is what you're gonna do in the tournament, so if you practice hard, you've gonna do fine in the tournament," he said.