Jags put
THS

boys away in final minutes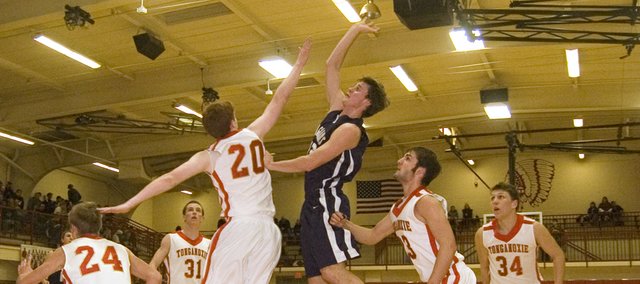 A lack of execution in the final few minutes on Friday kept the Tonganoxie High boys basketball team from picking up its first Kaw Valley League win of the season.
The Chieftains scored just two points in the final 3:52 against Mill Valley and lost, 63-55.
While THS (2-4 overall, 0-4 KVL) had trouble running its offensive sets down the stretch, the Jaguars (4-2, 4-0) scored easy buckets and hit their free throws.
MVHS closed the road win with a 10-2 run that began with an inside score from Taylor Reinoehl. The Jags followed that with a transition layup by Mark Biesma, two free throws for Matt Friesner and 4-for-4 shooting at the charity stripe by Nathan Stacy.
A bucket in the paint from junior center Dane Erickson with 44 seconds left was the Chieftains' only score in that stretch.
Tonganoxie entered the final period trailing by four but a steal and a layup by Dylan Scates and another score set up by a cut to the hoop by Erickson tied the KVL contest at 47.
The Jags answered with two short-range jumpers from Stacy and Staton Rebeck to go up four before 3-pointers by the Chieftains' Austin Vickers and Jeremy Carlisle sandwiched a basket in the paint by Stacy and the game was tied at 53 apiece with 3:53 to play.
MVHS recovered from a two-point halftime deficit in part due to nine third-quarter points from Reinoehl, who scored a game-high 18. But the third also was the Jaguars' most diverse scoring quarter as Stacy, Jimmy Barnett, Biesma, Jake Theis and LJ Hatch all contributed.
The second quarter was the only one in which THS outscored the visitors. Scates hit a pair of 3-pointers and scored eight of his team-best 16 points in the period.
Mill Valley opened the game with an 8-2 run as Stacy and JJ Bebel scored inside and Reinoehl scored in the paint on back-to-back possessions.
THS answered with a 7-2 run that was capped by a backdoor cut and lay-in from Dylan Jacobs.
Both Tonganoxie and MVHS will travel Tuesday to Kansas City, Kan., for KVL dates. THS plays at Turner and the Jaguars head to Bishop Ward.
Score by quarters
MVHS 12 15 20 16 — 63
THS 10 19 14 12 — 55
Mill Valley scoring
Nathan Stacy 6 4-5 17, JJ Bebel 1 0-0 2, Jimmy Barnett 1 0-2 2, Taylor Reinoehl 8 2-3 18, Matt Friesner 2 2-2 6, Staton Rebeck 2 0-0 4, Mark Biesma 4 1-1 9, Jake Theis 1 0-0 2, LJ Hatch 1 0-0 3.
Tonganoxie scoring
Dane Erickson 5 2-4 12, Dylan Scates 6 1-2 16, Colby Yates 2 0-0 5, Jeremy Carlisle 4 0-0 9, Austin Vickers 3 0-0 7, Dylan Jacobs 1 2-2 4, Ben Williams 0 2-2 2.