Retired colonel,
WWII

veteran, earns France's highest honor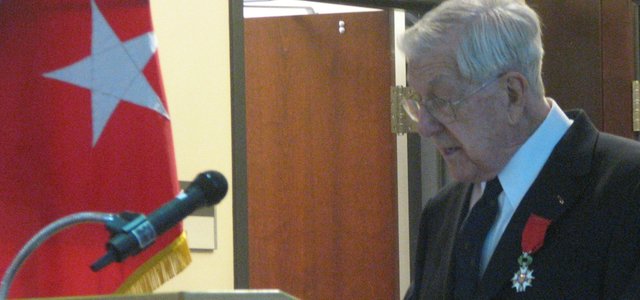 FORT LEAVENWORTH — The nation of France may be awarding Col. John Brooks its highest honor, but in effect it is honoring all those who fought and died alongside him during the liberation of that country during World War II, he said Friday.
"In recognizing my service, the French people say loud and clear, 'We remember,' and that is very important for a veteran to hear," Brooks said Friday at a presentation of the French Legion of Honor at Fort Leavenworth's Lewis and Clark Center.
The Legion of Honor, created in 1802 by Napoleon Bonaparte, is the highest honor awarded by the French government. Since 2004, it has used the award to honor American service members who served in the liberation of France during World War II.
Brooks, a 90-year-old retired Army colonel who lives in Leawood, participated in the D-Day landings in North Africa, Sicily and Normandy.
Presenting Brooks with the medal commemorating the honor was Col. Jean-Claude Brejot, the French Liaison Officer to the Combined Arms Center at Fort Leavenworth. At the presentation, Brejot thanked Brooks for his effort as a 24-year-old second lieutenant to ensure the freedom of the people of France.
"More than 65 years ago, you gave your youth to France and the French people," Brejot said. "Many did not return, but they are in our hearts, and fortunately you are among us to help us remember."
Brooks entered the military as a second lieutenant in 1941 and retired in 1966. He commanded units in World War II, Korea and Vietnam. After his retirement from the military, he joined the University of Missouri as associate director of admissions and registrar. He retired from the university in 1982.
For more on the ceremony, check next week's print edition.