Fort Leavenworth military police unit deploys to Iraq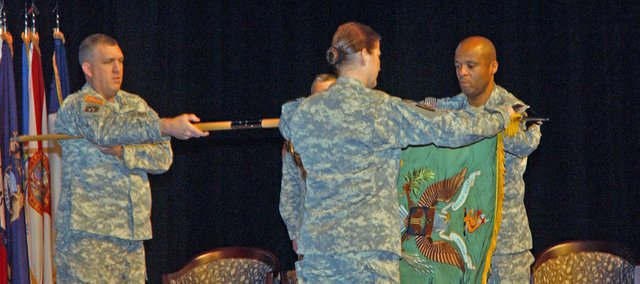 Fort Leavenworth — Having just been warned by her commander that a difficult yearlong mission awaited in Iraq, 1st Lt. Camille Acred said the biggest challenge was within arms' reach.
"It's being away from family," she said with a 10-month-old daughter in her arms and her husband and two other children nearby. "We're ready to go. We do this job everyday here."
Acred will deploy from Fort Leavenworth as one of about 150 soldiers with the Headquarters Company, 40th Military Police Battalion. There, they will manage military internment centers and train Iraqis to take over once they leave.
At a deployment ceremony Friday at Fort Leavenworth, the battalion's commander, Lt. Col. Erica Nelson, said the 40th's soldiers would guard some of the most dangerous prisoners in the world while dealing with language barriers and training replacements.
"The best of the best is being sent to provide care and custody for the worst of the worst," she said. "So strategic is this in nature that the smallest mistake can get international attention. Mark my words, this is no easy challenge."
But Nelson and 15th Military Police Brigade commandant, Col. Eric Belcher, expressed confidence the 40th would succeed because of its experience at the disciplinary barracks, its preparations of about a year, the support it received from families and knowledge those families were receiving support from the Leavenworth and fort communities.
In addressing the departing soldier's children, Belcher said as an Army brat he knew what they were going through and how import would be their letters to parents in Iraq.
Acred said the words helped as she prepared for a yearlong separation from her husband, Adam, and three children, Ariel, 10 months, Angelina, 7, and A.J., 12.
"It was nice they talked to the kids like that," Acred said. "I think it's good to let them know it's not all about the soldiers."
Her son A.J. said he was ready to step up.
"I'll look after things and cook when Dad's not around," he said.