5 Chieftains place in top 3 at Louisburg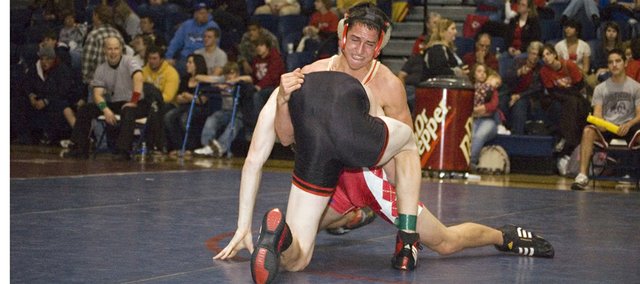 With a big week ahead of them, Tonganoxie High's wrestlers returned to the mat on Saturday at the Louisburg Invitational ready to compete.
The Chieftains placed fourth in the team standings at their first competition in three weeks, finishing behind three formidable opponents. Shawnee Heights, which won the tournament, was ranked No. 6 in Class 5A in the most recent Kansas Wrestling Coaches Association rankings, second-place Platte County is the defending Class 2 state championship team in Missouri and third-place Lansing was ranked No. 1 in 5A by the KWCA.
Considering their competition, THS coach Jeremy Goebel said his wrestlers performed well in their first action since the winter break.
"I thought we wrestled pretty tough, especially for the first time back on the mats," said Goebel, who noted Tonganoxie was in third place entering the finals before Lansing moved ahead of THS. "I thought it was a good tournament to kind of get the cobwebs out."
Some of Tonganoxie's wrestlers didn't appear to need the tournament to serve as a warm-up. Five Chieftains placed in the top three Saturday. The team's 160-pounder, Nick Pursel, returned with a 5-0 showing and a first-place medal. Three more THS grapplers placed second — Justin Soetaert (125 pounds) went 4-1, Caleb Himpel (130) was 3-1 and Matt Soetaert (145) finished 3-1. Also, freshman Clayton Himpel (112) had a 2-2 record and placed third.
Goebel was impressed with the wrestlers.
"Those guys got a lot of matches and some of them beat some kids that were maybe seeded higher than them," the coach said.
One such upset came courtesy of Matt Soetaert, who defeated Shawnee Heights' Marshall Hall, an opponent he had lost to on Dec. 18 at Tonganoxie. Goebel said that was a good stepping stone for the junior, and the team, overall, wrestled at a solid level.
"All those kids, they had a good day in terms of putting it together and getting back from the break," he said.
With each weight class at the tournament having anywhere from five to nine wrestlers in it, Tonganoxie was able to win a total of 12 medals.
Britton Price (135), Thomas Miller (171) and Ryan Lynch (215) placed fourth and Jonas Myers (189), Adam Thomas (140), Dylan Yates (119) and Dominic Estrada (103) took home fifth-place medals.
After performing well in December, Goebel thought the team's performance at Louisburg was a good sign — "We're on the right track to continue that success," he said.
Now that the Chieftains are back in the swing of things, they have a big week ahead of them. Though Thursday's Senior Night home dual against Spring Hill has been postponed until Feb. 2, the Bobcat Classic at Basehor-Linwood is Friday and Saturday.
Said Goebel: "This week's gonna be a barnburner."
The BLHS tournament traditionally is one of the toughest in the state and Goebel said it is typically a good predictor of postseason success, estimating wrestlers who place at the Bobcat Classic this weekend will have about a 90 percent chance of winning a state medal down the road.
The Bobcat Classic starts at 1 p.m. on Friday and 9 a.m. on Saturday.
Louisburg Invitational
Team scores: 1. Shawnee Heights, 322.5; 2. Platte County, 309.5; 3. Lansing, 252; 4. Tonganoxie, 216; 5. Blue Valley West, 173; 6. Louisburg, 138; 7. Leavenworth, 95; 8. Wyandotte, 35.5; 9. Bishop Ward, 6.4.
THS results
(Weight class — wrestler, record, place)
103 — Dominic Estrada, 0-4, 5th
112 — Clayton Himpel, 2-2, 3rd
119 — Dylan Yates, 1-4, 5th
125 — Justin Soetaert, 4-1, 2nd
130 — Caleb Himpel, 3-1, 2nd
135 — Britton Price, 2-2, 4th
140 — Adam Thomas, 1-2, 5th
145 — Matt Soetaert, 3-1, 2nd
152 — Luke Carey, 0-3
160 — Nick Pursel, 5-0, 1st
171 — Thomas Miller, 2-3, 4th
189 — Jonas Myers, 2-2, 5th
215 — Ryan Lynch, 1-2, 4th
Hvt. — Hank Somers, 1-2