Chieftains' second-half struggles lead to 24-point 'L'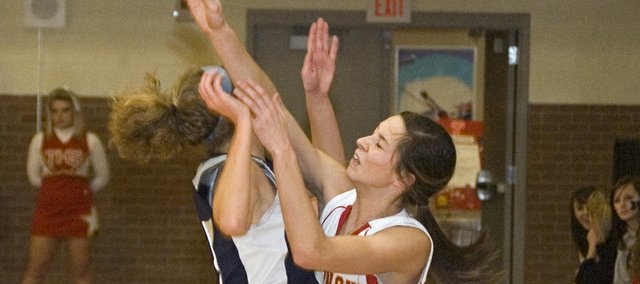 With a seven-point halftime deficit on Friday against one of the league's top teams, Tonganoxie High girls basketball coach Randy Kraft wasn't feeling too bad about the state of his team.
After visiting Mill Valley turned the game into a rout and won convincingly, 52-28, however, there wasn't much about which to be happy.
It was the proverbial tale of two halves for the Chieftains, and although the first one wasn't perfect, the second one was far worse, because they could not keep pace with the Jaguars (6-1 overall, 4-0 Kaw Valley League).
"It's just the idea that we didn't compete in the second half," Kraft said of the game's worst aspect for his team. "We got down a little bit (on the scoreboard) and we just let it get us down. Mentally, we've got to change our game."
THS (2-4, 1-3) entered the second half down 22-15 after winning the second quarter on a steady diet of 3-pointers — two from Haley Smith and one from Amanda Holroyd — to go with a second-chance basket by Danielle Miller.
However, the Chieftains only scored two field goals in the first 10:44 of the second half, a stretch in which MVHS outscored them 23-5.
"I was pretty disappointed," Kraft said of the effort. "The first half I wasn't disappointed. I thought we competed. In the second half, they got enough of a lead that they felt pretty comfortable in what they were doing."
Of Tonganoxie's 11 made field goals in the loss, five came in the second half, when the team shot 27 percent. Jenny Whitledge, Tavia Brown, Smith (who led THS with 12 points in her first game coming off the bench and was the team's lone double-digit scorer) and Miller were the only Chieftains to make second-half baskets.
But the first two quarters weren't much better. Tonganoxie trailed 12-2 out of the gate and Tayler Miles' two baskets inside accounted for all of the team's first-quarter points.
On the night, the Chieftains went 11-for-38 from the floor (29 percent). What's more, Kraft said it wasn't Mill Valley's defense that forced the cold shooting.
"We took bad shots," Kraft said. "We didn't work hard enough to get each other open. We didn't execute very well offensively. When we did, we hit shots."
The team's lack of execution showed in the box score as THS finished with 20 turnovers against just six assists.
MVHS also edged Tonganoxie in rebounding, 30-26. Miles and Miller each had four boards but Emma Stilgenbauer and Holroyd finished tied for second-best on the team in that category with just two apiece.
The Chieftains next play at 6 p.m. on Friday at Lansing.