THS

boys still fighting
Though winless in
KVL

, Chieftains optimistic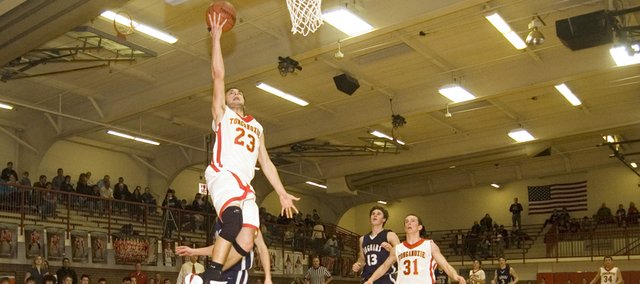 If the Tonganoxie High boys basketball team's fourth straight league loss has the squad worried, the players and coach put on a convincing front on Friday.
A 63-55 setback at home to Mill Valley kept the Chieftains (2-4 overall, 0-4 KVL) winless in Kaw Valley League play. They certainly weren't happy with the result, especially after being outscored 10-2 in the final 3:52 of play, but team members put on confident — if not happy — faces.
After leading THS with 16 points, senior guard Dylan Scates said the Chieftains can't afford to be rattled by their slow start.
"I'm not worried about it," Scates said. "You don't want to start off 0 and 4 in the league, but there's no doubt in my mind that we can bounce back from it."
The explanation for the lack of panic coming out of the Tonganoxie locker room might come, in part, from the way the team has competed. Although THS was blown out in its season opener at Basehor-Linwood, other contests have not been as bad. The Chieftains won two non-league games and none of their most recent KVL losses has been by more than nine points.
Chieftains coach Shawn Phillips said there are areas of concern — such as the team's lack of execution late against Mill Valley and what he described as poor on-the-ball defense in the second half — but he said most of the problems are fixable.
"Other than our first game of the season, we've been in every single game, even though we haven't pulled many of them out," Phillips said. "If we keep working, hopefully we can get over that hump, but we've got to take care of the little details that are the difference between winning and losing, and we haven't been able to do that with consistency yet."
Senior point guard Jeremy Carlisle, too, said issues need addressing. For instance, Mill Valley (4-2, 4-0) had far too many point-blank shot in the second half on Friday (the Jaguars scored 20 points in the paint in the final two quarters). Carlisle said the Chieftains have not played as well as they thought they would so far this season and they need to live up to their own expectations.
"We just have to go out there and prove that we can play basketball," Carlisle said, "because right now no one thinks we can."
Tonganoxie might be able to embrace an underdog role going forward, but the team's point guard said it must move on from its 0-4 start in league games.
"We've just got to put this behind us," he said. "We can't be thinking: 'We've got to get a win. We've got to get a win.' We've just got to go play."
Phillips said there were a few positives to take away from the latest setback, including the first prolonged minutes of the season for junior post sub Dylan Jacobs, who finished with four points.
Friday also marked the second straight game for former bench player Colby Yates in the starting lineup. Scates said THS is getting closer to a final product.
"I feel like we're starting to get in our groove and starting to find out who our players are and who can come off the bench and really help us out," the senior said.
The Chieftains aren't fooling themselves about where they stand in the KVL, Phillips said. They know they don't have a single win entering Friday's road game at Lansing. The thing they must avoid is focusing on the hole in which they currently reside.
"The schedule's coming, no matter what, so you've just got to keep playing it," Phillips said.
Playing improved basketball, Scates added, will go a long way toward helping THS climb out of the league's cellar.
"We're getting better every game," he said. "We've just got to keep working and keep playing hard and we'll get our victories when we are due."