Mayor, councilman to seek reelection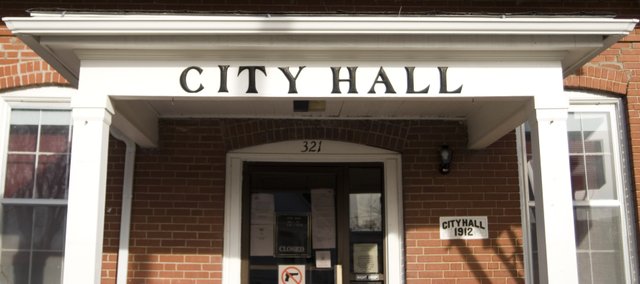 Tonganoxie Mayor Jason Ward and Councilman Bill Peak said Monday they would run for reelection this spring.
The positions of Ward, Peak and Councilwoman Paula Crook expire in April. Although Peak is the only person to formally file for election, Ward said he, too, planned to run.
Ward said he made the decision to seek a four-year term as mayor after talking to his wife and family in recent weeks. Ward became mayor with the resignation of Mike Vestal from that position in August.
"It has been a lot of fun, but there's a lot more that needs to be done," he said.
Ward said the foremost issue on his mind and all current council members was managing the city budget in the current economic downturn.
"I think No. 1 on everybody's list is managing our budget in the current economy — just making sure we have all the guidance we possibly can as far as priorities and making sure we're using the money the best we possibly can," Ward said.
The city entered the year with no reserve and with a relatively small $50,000 contingency fund carved out during last summer's budget process.
Moreover, several issues have converged in recent months to focus the council's attention on the city's debt structure and future capital improvements. Those included a warning that the city's bond rating could take a hit with continued deficit spending and increased debt; mold in the police station that will be expensive to address; and the possible need to make improvements to 14th and East streets should USD 464's school bond be approved.
"The council is evaluating what we can afford to spend if we were to be a part of infrastructure improvement with the school district," Ward said. "All of that is tied together."
The economy was limiting the city's ability to offer incentives to stimulate growth, Ward said. But he supported moves last year to renew the revitalization plan that offers rebates on property taxes for improvements to properties in the older sections of town and building fee rebates for residential homes, he said.
As for business and industrial incentives, Ward said the city needed to continue to search for the right mix in a difficult economy.
"It's a really competitive environment right now because of the economy," he said. "We need to continue to look around to see what other cities are doing and what we may be able to do."
One area Ward said he continued to support was the city's new industrial park south of the city and meant to benefit from the new Interstate 70 interchange and improvements to Leavenworth County Road 1.
"I think that property represents a great opportunity for the city" Ward said. "We've had a lot of interest since we purchased it. What that property means is businesses that can bring a lot of jobs to the city. If we could bring businesses with 300 to 400 jobs, that would be a huge victory for the city, and some of those who have been interested have been along those lines."
Peak, a retired postal employee who has lived in Tonganoxie for six years, said he was honored to be appointed to the council in September with the resignation of Tom Putthoff and to now run for the seat.
"I attended over 95 percent of the meetings before being appointed," he said. "I not only take it as an honor but seriously as a steward of taxpayers' money.
"The first priority is getting financing in line — seeing what we're spending and where and what projects are worthwhile. We need a realistic appraisal of where we are, not just what the city can afford but if some of these projects can be done cheaper — that kind of thing.
"The other issue is the general fund balance. We need to work on getting that built back up."
Peak, who was on the Tonganoxie Planning Commission for two years before his appointment to the council, was chairman of the retail commission and program director for the Tonganoxie Community Historical Society, said he would like to see more citizen involvement in city government and better attendance at council meetings.
The deadline to file or withdraw for the spring city/school board election is noon, Jan. 25. There will be a March 1 primary if more than six candidates file for the two council seats or more than three file for mayor. The general election will be April 5.