4-point 3rd costs
THS

girls at Lansing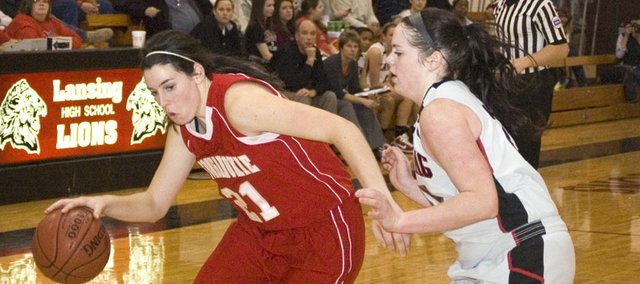 Lansing — It only took one unproductive quarter Friday night to send the Tonganoxie High girls basketball team home with its fourth straight loss.
For the Chieftains, a listless third quarter at Lansing led to a 40-31 Lions victory.
LHS (4-3 overall, 4-0 Kaw Valley League) opened the second half with a 9-0 run as Tonganoxie failed to score a single point until the final two minutes of the third quarter.
THS senior Danielle Miller finally broke the drought with 1:34 to go in the third, when she put in an easy inside basket on an assist from fellow forward Tavia Brown.
Brown scored inside with just three seconds remaining in the quarter but that only cut the Chieftains' hole to seven points.
With five missed field goals, five turnovers and two misfires at the free-throw line in the third, Tonganoxie (2-5, 1-4) squandered its two-point halftime advantage and Lansing took a 28-21 lead into the fourth quarter.
THS coach Randy Kraft pointed to his team's lack of meaningful movement in the third, when Lansing outscored the visitors 13-4, as the difference in the game.
"It wasn't that they were scoring so much," Kraft said of the Lions in that period. "We didn't do anything in the third. Offensively, we got very stagnant — we quit attacking."
Kraft said his team played in an opposite fashion in the first half, which featured eight points (all on jumpers) from junior guard Haley Smith, five from junior guard Amanda Holroyd and four more from sophomore forward Jenny Whitledge.
The coach would have much rather seen that continue in the third quarter.
"Our sets aren't gonna work if we're not attacking the length of the court, pushing the ball a little bit," Kraft said.
Despite six fourth-quarter points from junior forward Brown and four points in the paint from Whitledge, the Chieftains couldn't get Lansing's lead under seven in the fourth quarter.
THS plays at 6 p.m. on Tuesday against De Soto in the first round of the Tonganoxie Invitational.
Score by quarters
THS 10 7 4 10 — 31
LHS 10 5 13 12 — 40
Tonganoxie scoring
Haley Smith 3-9 0-0 8, Tayler Miles 0-3 0-0 0, Danielle Miller 1-2 0-0 2, Jenny Whitledge 4-12 0-0 8, Hannah Kemp 0-3 0-0 0, Amanda Holroyd 2-4 0-0 5, Emma Stilgenbauer 0-0 0-2 0, Tavia Brown 4-4 0-0 8.