Hayden: cuts coming to Tonganoxie
USD

464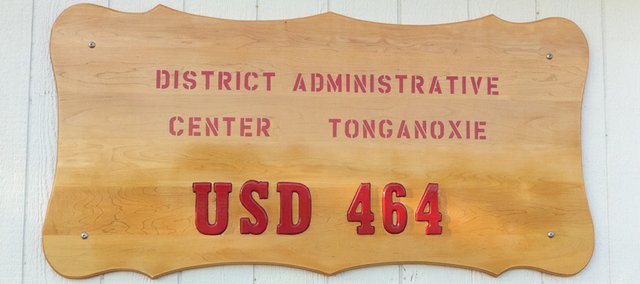 USD 464 Superintendent Kyle Hayden's gloomy assessment is that the district and other Kansas school districts need to prepare for a level of per-pupil state aid equal to that of a decade ago.
The cuts were in the budget plan newly elected Gov. Sam Brownback released Thursday. It would reduce base state aid per pupil to K-12 education from $4,012 to $3,780 over the rest of the current school year and the next school year. That would be the lowest base state aid per student level since the 1999-2000 school year.
Brownback said his proposals were necessary to balance the budget without a tax increase and to help bridge an estimated $550 million revenue shortfall.
According to figures prepared by Dale Dennis, deputing commissioner of the Kansas Department of Education, the governor's plan would reduce state funding to USD 464 for the current 2010-2011 school year by $199,238 or 1.9 percent and by $414,071 or 4 percent in 2011-2012.
Democratic leaders in the Kansas House and Senate have criticized Brownback's plan, calling for the repeal of some tax exemptions and loopholes to help fund education. However, Hayden said the district should expect something like the governor's plan.
"It's going to happen," Hayden said after Thursday's USD 464 Board of Education meeting. "Always before these cuts were proposed by the Legislature, but couldn't get the governor. This is coming from the governor."
The district could absorb the current year cuts through use of its contingency reserve fund and its conservative approach to budgeting the past two years, Hayden said.
The deeper cuts for next school year will require adjustments, Hayden said. To that end, the board approved the superintendent's request for a Jan. 31 special board meeting devoted to goal setting.
Hayden said the hope was the discussion would allow the district to keep the programs it has in place, maintain staff and continue to make progress in technology.