Tonganoxie boys blown out by Lions
Without Erickson, Chieftains struggle on road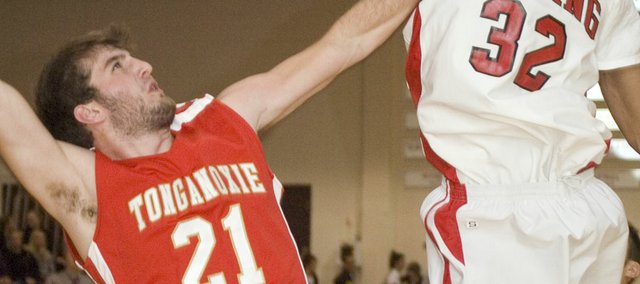 Lansing — What figured to be a difficult Friday night for the Tonganoxie High boys basketball team got worse as it went on and culminated with a 60-30 loss at Lansing.
The Chieftains (2-5 overall, 0-5 Kaw Valley League) were without starting center Dane Erickson and facing a Lansing team that was undefeated in league play.
Only able to hang around in the first quarter, THS soon found itself on the wrong end of a rout.
Tonganoxie coach Shawn Phillips said, given the situation (Erickson was with the THS debate team in Overland Park, competing at state), his team did nothing on the road to compete with LHS (5-2, 4-0).
"I don't think a lot of our guys came ready to play, ready to rise up to the occasion," Phillips said. "Somebody was gonna have to step up and take care of some scoring, some rebounding and we didn't have anybody elevate their game. We had kids play a little bit lower than what they had been."
The Chieftains trailed throughout the 30-point road loss and as bad as the first three quarters went, things bottomed out in the fourth as they failed to score and a running clock was implemented with less than four minutes to play.
The goose egg in the fourth was a bit surprising given Tonganoxie's play in the third quarter, when they outscored LHS 15-14.
Senior point guard Jeremy Carlisle led that charge, scoring nine of his team-best 15 points and passing out two assists — to Dylan Jacobs and Eric McPherson on the road team's first two buckets of the second half.
However, Carlisle's three-point play with 1:42 left in the third marked his team's final points of the night, and THS dropped its third straight and remained winless in the KVL.
The Chieftains play at 7:30 p.m. on Tuesday, when they face Silver Lake in the opening round of the Tonganoxie Invitational.
Score by quarters
THS 7 8 15 0 — 30
LHS 12 22 14 12 — 60
Tonganoxie scoring
Dylan Scates 2-5 1-2 5, Colby Yates 0-2 0-0 0, Jeremy Carlisle 5-13 4-9 15, Austin Vickers 2-4 0-0 4, Dylan Jacobs 1-3 0-0 2, Ben Williams 0-1 0-0 0, Brennen Williams 0-3 0-0 0, Brady Waldeier 0-4 0-0 0, Kody Campbell 1-1 0-0 2, Eric McPherson 1-2 0-0 2, John Lean 0-1 0-0 0.