De Soto girls survive against host Tonganoxie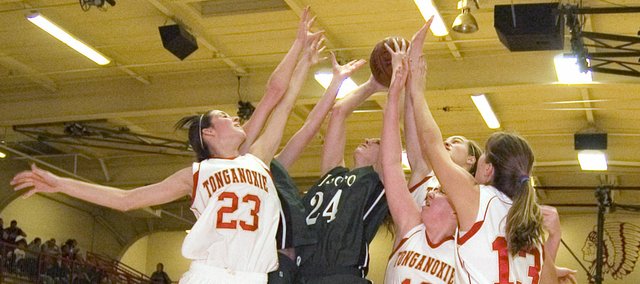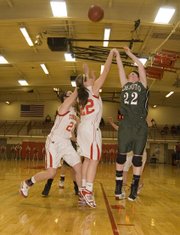 Despite holding the De Soto High girls basketball team to no field goals in the final six-plus minutes, Tonganoxie couldn't capitalize and fell Tuesday in the first round of its home tournament, 30-29.
The Chieftains had a one-point lead with just 11 seconds remaining, but Wildcats senior forward Katie Gorman hit two free throws that proved to be the game-winners.
THS (2-5) had one last chance at a victory in its Tonganoxie Invitational opener but a contested 15-foot jumper by junior guard Haley Smith rimmed out as time expired.
De Soto's only fourth-quarter field goal came with 6:42 to play, when senior point guard Shelbi Petty scored on a transition layup and the Wildcats (6-4) didn't score again until Taylor Saucerman hit the front end of a one-and-one at the free-throw line with 25 seconds left.
However, Tonganoxie couldn't take advantage in that stretch, scoring just six points as DHS struggled.
In fact, the Chieftains only had one fourth-quarter field goal, as well, a baseline jumper by sophomore Jenny Whitledge with 3:54 left on the clock.
Whitledge also went 3-for-4 at the foul line in the fourth quarter, but as a team the Chieftains were 4-for-9 in the fourth and 6-for-16 on the night.
Most troubling for THS coach Randy Kraft, though, was the Wildcats' performance on the glass. Ashley and Katie Gorman combined for 21 of De Soto's 39 rebounds and DHS manhandled Tonganoxie on the boards with a plus-16 rebound margin.
Kraft said Tonganoxie typically rebounds well but its inability to do so against De Soto sent the home team to the tournament's consolation bracket.
"We did not rebound well tonight and gave them way too many opportunities," Kraft said.
Tonganoxie will face Blue Valley Southwest at 6 p.m. Thursday at the invitational.
De Soto will play Lansing in a 6 p.m. Friday semifinal.
Score by quarters
DHS 10 7 8 5 — 30
THS 9 7 7 6 — 29
De Soto scoring
Shelbi Petty 4-9 2-4 13, Ashley Gorman 4-10 0-0 8, Taylor Sauceman 0-6 1-4 1, Kartie Gorman 2-3 3-6 7, Jesse Spencer 0-1 1-2 1, Paige Williams 0-1 0-0 0.
Tonganoxie scoring
Haley Smith 1-6 0-0 3, Tayler Miles, 1-1 0-0 2, Jenny Whitledge 3-10 3-4 9, Hannah Kemp 3-6 0-4 8, Madee Walker 0-1 0-0 0, Amanda Holroyd 0-3 0-0 0, Emma Stilgenbauer 0-1 0-0 0, Tavia Brown 2-3 1-6 5.