Eagles send
THS

boys to consolation bracket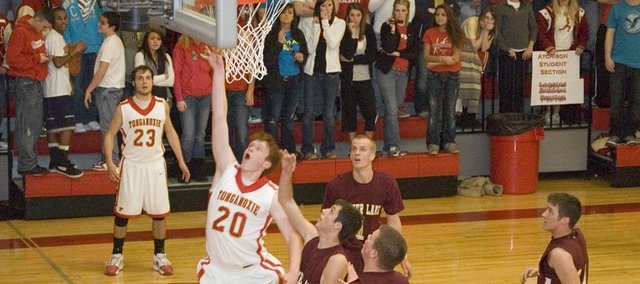 The Silver Lake High boys basketball team was more than ready to start defending its Tonganoxie Invitational crown on Tuesday and last year's runner-up didn't match its intensity.
In a rematch of the tournament's 2010 title game, the Eagles cruised to a 55-40 win over host Tonganoxie.
The Chieftains (2-6) held a very brief lead in the opening minute before SLHS (7-2) began a dominating first-round performance with a 15-1 first-quarter run that had THS reeling.
Tonganoxie coach Shawn Phillips said early deficits were becoming a disturbing trend.
"Once again we didn't come out ready to play and that's something we tried to stress from the very beginning," Phillips said. "We can not afford to be down double figures in the first three or four minutes and that seems to be somewhat of a theme here over the last few games."
Though Chieftains Jeremy Carlisle, Dylan Scates, Dylan Jacobs and Dane Erickson all helped the home team cut into Silver Lake's controlling lead with a 13-7 run over the next few minutes, the Eagles countered with a run of their own and led by as many as 15 in the second quarter, when Casey Smith started taking control, scoring eight of his game-high 21 points.
An 8-2 push by SLHS, with six of those coming from Keenan Kruger, to open the third gave the Eagles a 45-28 lead.
Phillips said the Chieftains failed to match Silver Lake's effort and energy, especially on the glass, where the Eagles held a 36-26 advantage.
"I'm disappointed we didn't have anybody step up and make some plays," Phillips said.
Tonganoxie will play in the tournament's consolation bracket at 7:30 p.m. Thursday against Atchison.
Silver Lake moves on to a 7:30 p.m. Friday semifinal against De Soto.
Score by quarters
SLHS 20 17 12 6 — 55
THS 14 12 5 9 — 40
Silver Lake scoring
Dylan Backman 1-3 0-3 2, Eric Roberson 0-2 3-4 3, Casey Smith 9-16 4-7 21, Keenan Kruger 6-13 2-4 15, Jeremy Boyd 4-6 0-1 8, Tyler Seele 1-2 0-3 2, Jordan Haverkamp 2-2 0-0 4.
Tonganoxie scoring
Dane Erickson 3-7 6-8 12, Dylan Scates 2-6 0-0 4, Colby Yates 1-3 3-6 6, Jeremy Carlisle 2-9 3-4 8, Austin Vickers 2-5 0-0 4, Ben Williams 0-0 0-1 0, Brennen Williams 0-4 0-0 0, Dylan Jacobs 3-8 0-0 6.