Night of accolades
Walker is
KS

teacher of year;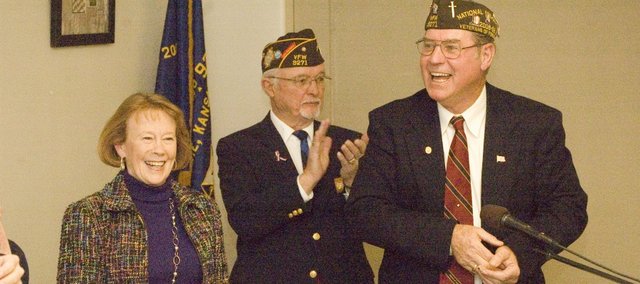 On a night when a handful of Tonganoxie students were recognized for their essays, a Tonganoxie High School educator also received accolades, some of which came as a major surprise.
Kathy Walker, longtime THS counselor, was honored Monday at the Tonganoxie VFW Post Home as teacher of the year by the Department of Kansas Veterans of Foreign Wars. She knew she had been selected as the top teacher in the Tonganoxie's VFW District, but had no idea she had been named the teacher of the year for Kansas until the news was revealed at Monday's ceremony.
"I'm very surprised," Walker said after the ceremony. "It's quite an honor."
She noted the honor had special meaning because her father served in World War II, and his duties included being a German translator. Her son also served in the Air Force. And, her husband has worked at the Veterans Administration Hospital in Leavenworth for 39 years.
There are nearly 190 VFW posts across the state that can submit nominations for the award.
Walker, who is in her 37th year as an educator at THS, now will vie for the national teacher of the year award. If she is selected for that honor, Walker would meet the President and the Tonganoxie school district would be given grant money.
The announcement of Walker's recognition capped off a night of Tonganoxie students reading their winning essays from the VFW's Patriot's Pen and Voice of Democracy contests. The Patriot's Pen contest is at the middle school level and Voice of Democracy is open to high school students.
Taking first place at the middle school level in Tonganoxie was eighth-grader Haley Marie Starcher. Second place went to eighth-grader Samantha Jones and third to seventh-grader Monica Maurer.
Though seventh-grader Sierra Clark did not place in Tonganoxie. Her essay was named the top essay in Tonganoxie's district and won third place in the state.
"I was certainly kind of surprised," she said of the third-place finish, adding that writing always has been a hobby of hers.
Organizer Helene Miller of the Tonganoxie VFW Women's Auxiliary, said Clark's third-place finish is the highest ever on the state level for a Tonganoxie student.
The theme for this year's Patriot's Pen contest was "Does patriotism still matter?"
At the high school level, this year's theme was "Does my generation have a role in America's future?"
First place went to Lindsey Truesdell, second to Marcus Titterington and third Beth Jobst.
Essay winners and their families dined on pizza and dessert with VFW members before reading their essays at the ceremony.
Their essays were not available to The Mirror at press time, but can be viewed online at tonganoxiemirror.com later this week.