No looking forward for Tonganoxie girls
Chieftains take one-game-at-a-time approach into invitational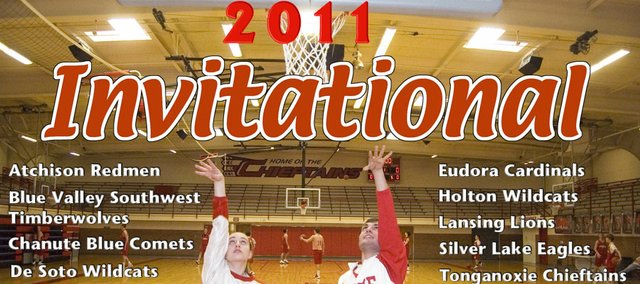 Related document
Hard as it might be, the Tonganoxie High girls basketball team is trying its best not to look ahead this week at the Tonganoxie Invitational.
Despite the program's history of success at its home tournament, between a 2-5 record and a four-game losing streak entering the eighth installment of the girls invitational, the Chieftains aren't necessarily talking title.
THS has won the tournament three times (in 2005, 2007 and 2008), but the past two years the Chieftains were forced to settle for appearances in the third-place game, winning it in 2009 and losing at the buzzer a year ago.
Any discussion about eclipsing a third- or fourth-place finish, however, is premature, said Tonganoxie coach Randy Kraft.
"Right now we're just trying to win games. It's one game at a time," he said. "Those kind of things take care of themselves if you go one game at a time."
The Chieftains are excited to play three straight home games this week, junior guard Haley Smith said, but they want to heed Kraft's advice and not assume success.
"I think we get more excited to play in front of the home fans, but really it's just a ball game. We're out there to play," Smith said, adding she and her teammates shouldn't look past anybody at the tournament. "Lately, we've been going step by step."
Only three teams entered the tournament with winning records. Silver Lake came in at 5-3, De Soto was 5-4 and Lansing, after defeating Tonganoxie 40-31 on Friday, improved its record to 4-3. Kraft predicted Silver Lake and Lansing would be the favorites.
"I think those two are, by far, the top teams to contend with," Kraft said. "Silver Lake's got a pretty good record and they've got a lot of kids coming back from last year and they were pretty good last year."
De Soto, he added, was in a similar position. Meanwhile, THS, Atchison, Blue Valley Southwest, Chanute and Eudora all have losing records.
"Everyone else, I think, has a pretty even shot at it," Kraft said.
Tonganoxie might not be one of the favorites, but senior Danielle Miller said she would like to see the team improve upon its past two showings at the invitational.
"We haven't done too great the years that I've been here, so that's one of my goals — to make it to the championship game this year," she said.
Fresh off a nine-point loss at Lansing and having seen the bracket, it was hard for Miller to adhere to the one-game-at-a-time approach.
"If we get past the first one, the second game most likely will be Lansing," Miller said of a potential Friday semifinal. "I think we'll want it even more, because it's them and it's the game to get to the championship."
That could prove to be a pretty big "if," though. Kraft said the Chieftains have been more successful defending and rebounding than executing offensively. That will have to change if THS wants to have a successful week at the tournament.
"We're not aggressive," Kraft said. "We've got a lot of players out there that want to be role players and we don't have people stepping up and taking charge."
The coach pointed to the fourth quarter of the loss at Lansing as an example of someone showing leadership. Unfortunately for THS, that someone was LHS senior post Katie Delich, who carried the Lions to a win.
"We don't have that player yet to rely on that will make a play for us when we need it," Kraft said.
The Chieftains have not been completely void of players stepping up — for instance, both Smith and Tavia Brown scored eight points in separate eight-minute stretches on Friday — but Kraft said he needs players to make a more steady impact.
"I think it's just a growing process with this team," he said. "Even though some of them have some varsity experience, we've got an awful lot of kids that don't have so much varsity experience."
Miller said Tonganoxie wants to find more consistency and this week could play a big part in that development.
"I think it's gonna push us, because it's a long week, it's a lot of games," the senior said.
Regardless of their invitational foes, Kraft wants THS players focusing on themselves and, he hopes, the team's continual development.
"Right now, we're not focusing too much on opponents or tournaments or anything," he said, "just that next game."