Past invitational title losses not a concern for
THS

boys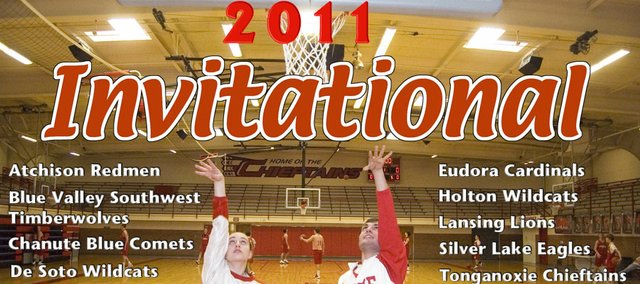 Related document
With the Tonganoxie High boys basketball team losing championship games in back-to-back years, the obvious question heading into the 52nd annual Tonganoxie Invitational seemed to be: How much are the Chieftains focused on getting back to the title game for a shot at redemption?
Funny how a 2-5 start to the season changed that.
After a 60-30 loss Friday at Lansing marked the Chieftains' third straight setback and dropped their Kaw Valley League record to 0-5, THS coach Shawn Phillips was more concerned with just getting to the winner's side of the bracket this week at his team's home tournament. Avenging title game losses in 2009 (to De Soto) and 2010 (in overtime, against Silver Lake) and returning to the championship round weren't exactly the coach's biggest concerns.
"We obviously want to get there," Phillips said. "We've just got to win a game right now."
This year's struggles far outweigh results from the past. Following Tonganoxie's 30-point road loss to Lansing, senior forward Austin Vickers said winning the 2011 tournament was not a thought occupying much of his time.
"I'm really focused on the first game, honestly," Vickers said. "I'm not even worried about the championship."
A few Chieftains were hanging their heads after their most recent loss, but senior point guard Jeremy Carlisle said they owe it to themselves to keep competing and get back to winning.
"It doesn't matter who doubts us as long as we believe in ourselves," Carlisle said.
With that in mind, the senior said he wants to return to the invitational championship game for the third year in a row.
"It's definitely in our heads," he said of competing for the title. "We haven't started off nearly as successful as we wanted to this year, but we still know we can play with the best and we just have to go out there and show that we can do it."
This year's invitational field will provide quite the proving ground. De Soto, Lansing and Silver Lake all came to town with winning records and Holton entered undefeated at 8-0.
Said Phillips: "I think any of those are capable of winning it. Holton's got all the size, De Soto's got a great point guard and Lansing's pretty solid all around."
As for Silver Lake, Tonganoxie's first-round opponent, the coach said the Eagles' experience as returning invitational champions and their ability to take away the inside makes them a difficult matchup for anybody.
Phillips said there is no clear-cut favorite to win and the field is tougher than it has been the past two years.
"Whoever wins it will have beaten a few quality opponents," the coach said, "and can say it was a good tournament champion."
The invitational will be challenging for THS, Carlisle said, and therefore potentially rewarding.
"It's a great opportunity," he said. "We're just looking forward to going out and competing."
Each of the previous two seasons, Tonganoxie was able to use its home tournament as a springboard toward a strong finish. Last year, the Chieftains were 3-4 before the invitational and after a second-place showing they went 8-4 to finish the season. Similarly, THS was 4-3 entering the invitational in 2009 and followed a second-place finish with an 8-5 record down the stretch.
Vickers said he didn't really want to look forward, but admitted the big-picture importance of the Chieftains having a successful week.
"If we do decent in this tournament, I could see us catching on fire eventually," Vickers said. "Hopefully soon."
Should Tonganoxie win its home tournament for the first time since 1994, Carlisle said it could turn around what has been a losing season.
"I think it'll be huge to win our next three and get back to .500," the point guard said.
Phillips said his team's play at the tournament the past two years has helped the team in the long term, but some things will have to change for that to happen again this season.
"Usually about this time, we're starting to run a lot of our stuff well," the coach said, adding the Chieftains have not yet got to that point this year. "Hopefully the light will click on here before too long and we can start improving down the stretch."
The area most in need of a drastic change, Phillips added, is the team's intensity level.
"We're too passive on the floor right now," he said. "We're to a point right now where we're adjusting to teams. Teams aren't adjusting to us. We're not at the level that we need to be."
If the Chieftains use this week to improve, Phillips said, maybe then they can worry about competing for the tournament championship.
"We've got to get some kids to play at a little higher level and hopefully we can take care of the first one and then worry about the second one," he said.