Tonganoxie residents reflect on King's legacy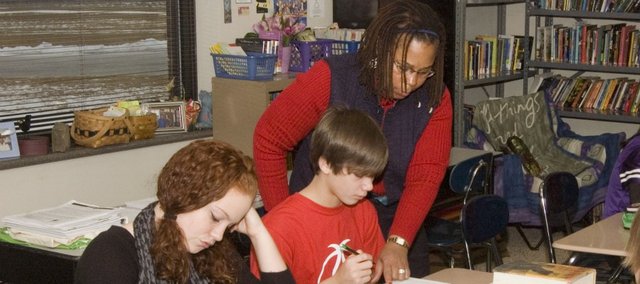 A day after Martin Luther King Jr. Day was celebrated and observed across the nation, a Tonganoxie Middle School class was incorporating King's "I Have a Dream" speech with President Abraham Lincoln's Gettysburg Address.
TMS teacher Debbie Holloway said she combined the two works and incorporated them into her current unit theme, which is "survival."
"These two selections work in nicely with that theme as both of these great men were each survivors in their own way," Holloway said.
Students read and listened to excerpts of King's speech and discussed how he survived living in such a turbulent time in American history.
They compared and contrasted the two works, Holloway said.
Charles Haines, a member of the black community who has lived in Tonganoxie his entire life, recounted growing up in this area.
"I went to a one-room school house, which I guess was integrated," Haines said. "White and black went to the school as a matter of fact."
The school was near Springdale, Haines noted, Centennial District 76.
"We had our problems, but everything was fairly civil," he said about the era of segregation.
Now 81, he recalled ordering a chili dog at an area dime store and not being allowed to sit down and eat. He instead would stand to eat his lunch or eat outside.
"I stood at the counter or else walked around the store," Haines said. "I thought that was kind of ignorant or foolish."
Haines remembered watching King's march on Washington, D.C.
"As I watched it on television, I can't believe there's that many Negroes in the South," Haines said. "This guy is talking about 'we'll bring thousands in the street.' It wasn't nothing but a sea of people.
"But as I remember there were a lot of white people in those marches."
With regards to civil rights, Haines said he thought improvements "came along really good in my 80 years."
He referenced his 80th birthday as an example. His children told him they were taking him to a Christmas party in Lawrence and that he needed to dress up for the occasion. He was blindfolded for the surprise Christmas party, which he called "the shortest trip ever to Lawrence."
They ended up at his church instead.
"They marched me into this church. I about had a heart attack," Haines said about what turned out to be a surprise birthday party.
"I saw white people. I saw my black relatives and black people I didn't even know. I thought to myself 'now this is something everybody should know about.'"
Another member of the black community, longtime Tonganoxie resident Ann Jarrett, reflected on Martin Luther King Jr. Day.
"I think it's a great day, and he was a very good man," Jarrett said. "I just think it's wonderful what he did for everybody."