Late push not enough for Tonganoxie girls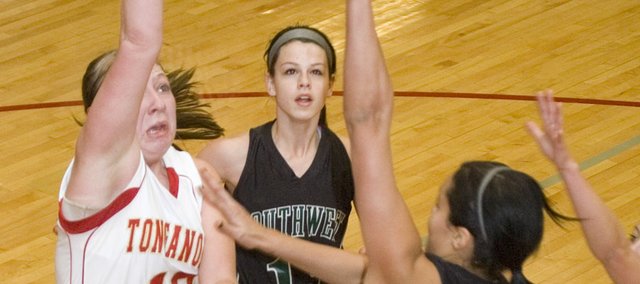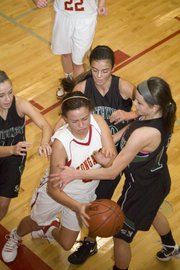 With little urgency in its play until the final few minutes Thursday, the Tonganoxie High girls basketball team was unable to snap its losing streak and fell to previously winless Blue Valley Southwest, 53-45.
The Chieftains (2-7) trailed by as many as 15 in the third quarter before busting out of a nearly nine-minute long field goal drought and they began attacking late in the fourth quarter, cutting the Timberwolves' lead to seven, but could get no closer.
BVSW (1-10) played an active half-court zone that had Tonganoxie looking out of sorts most of the game. However, Chieftains coach Randy Kraft said there wasn't anything particularly spectacular about the T'wolves' defense.
"We make things uncomfortable for ourselves," the coach said after his team turned the ball over 26 times and shot 13-for-45 from the floor.
The loss extended Tonganoxie's losing streak to six games. Kraft said the team's lack of assertiveness throughout most of the Tonganoxie Invitational consolation semifinal was the problem.
"In the fourth quarter when they finally became aggressive," he said, "we were getting to the free-throw line, we were making shots, we were hardly turning the ball over at all."
Indeed, THS had only three fourth-quarter turnovers and shot 14 of its 27 free throws in the final eight minutes as sophomores Jenny Whitledge and Hannah Kemp drew a number of fouls with drives to the basket. They combined to score 11 fourth-quarter points and junior substitute forward Tavia Brown scored six more as the Chieftains finally played basketball with a little bit of zest.
"I was really proud of them in that fourth quarter," Kraft said. "It's too bad you've got to get down 10 or 12 points in a game to start playing the way you should be playing."
The coach said when players don't play with much fire, it wreaks havoc with the team's production.
"I think the (lack in) level of intensity carries over into our turnovers, carries over into our ability to box out and rebound, our getting lazy on defense and fouling too much," Kraft said.
Whitledge's 11 points led Tonganoxie and senior forward Danielle Miller grabbed a season-high 13 boards, helping the Chieftains win the rebound margin, 43-30.
At 10 a.m. Saturday, THS will play in the tournament's seventh-place game. In the invitational's seven previous years of existence, Tonganoxie had only played for first or third.
Score by quarters
BVSW 12 12 17 12 — 53
THS 8 11 9 17 — 45
Blue Valley Southwest scoring
Brityn Like 5-13 6-7 18, Jenae Hicklin 4-5 2-2 10, Marissa Rodriguez 2-6 1-3 5, Emily Eldridge 4-15 6-10 16, Amanda Creason 1-2 0-0 2, Mackenzie Walker 0-2 0-0 0, Lexie Logue 1-3 0-0 2.
Tonganoxie scoring
Haley Smith 2-9 2-2 7, Tayler Miles 0-3 0-0 0, Danielle Miller 3-5 2-4 8, Jenny Whitledge 3-9 5-9 11, Hannah Kemp 1-5 4-4 7, Amanda Holroyd 1-8 3-6 6, Tavia Brown 3-6 0-2 6.