13-point 'W' ends
THS

boys' losing streak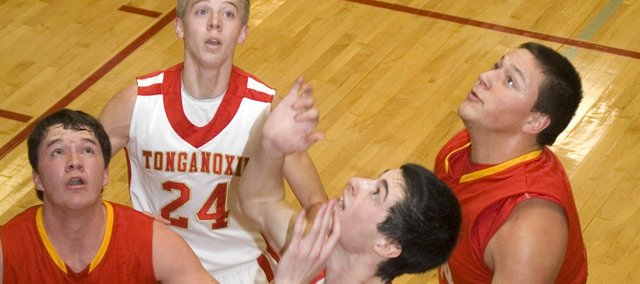 With a big second-quarter run against Atchison High on Friday, the Tonganoxie boys basketball team got in the win column for the first time in 32 days.
The Chieftains' 71-58 victory over AHS in a Tonganoxie Invitational consolation semifinal was their first win since Dec. 20.
THS coach Shawn Phillips said it was important for his team to end its four-game skid against Atchison (1-9).
"We've been struggling a little bit and it's always good to get on the winning side," he said.
A 14-3 run to open the second quarter gave Tonganoxie (3-6) the confidence it needed to get a victory.
The game was tied at 13 at the end of the first quarter but THS senior point guard Jeremy Carlisle took over in the second, scoring eight of his game-high 25 points and passing out two of his six assists in a run that put the Chieftains up 27-16.
Carlisle hit a 3-pointer late in the first quarter and from that point on was Tonganoxie's best scoring option while remaining a facilitator for others as he set up Colby Yates, Dane Erickson and Dylan Jacobs for easy baskets in the second quarter.
The point guard also helped THS remedy one of the team's issues of late — getting to the free-throw line. Carlisle was 11-for-14 at the charity stripe and THS shot 28 from the line after getting just 19 attempts in its previous outing. Though the Chieftains shot just 57 percent at the line (16-for-28), Phillips hoped that would be a one-game issue.
The Tonganoxie starting lineup had a different look against AHS as seniors Dylan Scates and Austin Vickers came off the bench and Jacobs and Ben Williams started.
Phillips said he altered the rotation after a number of slow starts.
"We'd been coming out flat, so we were trying to look for some of our guys who are just energy-type guys and Ben's a really good hustle kid," the coach said of Williams, a junior, who pulled down eight rebounds and scored four points in his first varsity start.
Williams' best play came just before the half, when he tipped in a Carlisle miss a split-second before time expired.
"That's just a hustle play and that's what we were looking for," Phillips said.
Scates and Vickers combined for 12 points off the bench and Williams and Jacobs combined for 15 rebounds as starters.
Erickson was a rebound away from a double-double with 18 points and nine boards.
Phillips said the victory gave his team a confidence boost.
"Hopefully we can hit a stretch here and we can roll a few (wins) off and get going in the right direction," he said.
At 11:30 a.m. Saturday, Tonganoxie will face Blue Valley Southwest in the invitational's fifth-place game.
Score by quarters
AHS 13 8 18 19 — 58
THS 13 24 11 22 — 71
Atchison scoring
Tyson Downing 1-10 2-5 4, Ce'zanne Burnes 5-16 5-10 15, Evan Wheeler 9-13 0-0 22, Nick Downing 0-0 0-0 0, Korby Anderson 1-2 0-3 2, Cole Newkirk 2-3 0-0 6, Jered Ross 1-5 1-3 3, Blake Dykstra 2-6 0-0 4, John Lauts 1-2 0-0 2.
Tonganoxie scoring
Dane Erickson 9-13 0-4 18, Ben Williams 2-4 0-0 4, Colby Yates 3-6 0-1 6, Jeremy Carlisle 6-12 11-14 25, Dylan Jacobs 2-6 0-0 4, Dylan Scates 2-5 0-2 4, Austin Vickers 2-4 3-5 8, Brennen Williams 0-1 2-2 2.