Tonganoxie boys finish 5th at invitational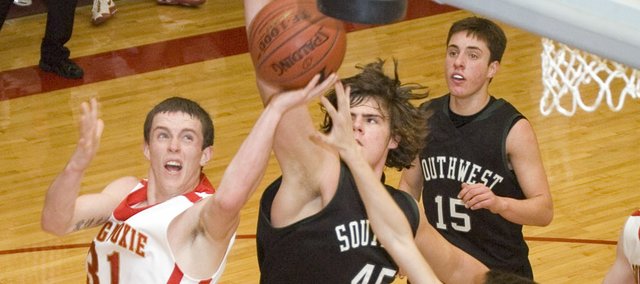 In spite of some below-average shooting, the Tonganoxie High boys basketball team was able to hustle its way to a fifth-place finish at the Tonganoxie Invitational on Saturday.
The Chieftains missed 33 shot attempts but still defeated Blue Valley Southwest, 62-46, by getting more than half of their points via turnovers and offensive rebounds.
THS (4-6) scored 20 points off the Timberwolves' 17 giveaways and 13 points after chasing down 13 offensive rebounds, helping negate its 19-for-52 shooting from the floor.
Tonganoxie coach Shawn Phillips said his team simply outhustled BVSW (1-10) in the tournament's fifth-place game and credited the Chieftains for playing more active than they had all year.
"I think our effort level across the board was the best that it's been," Phillips said. "We've shot the ball better before, but our overall intensity level was the best that it's been. We were active with our hands, causing tipped passes, loose balls, we rebounded the basketball well — we were going to get the ball, not letting the ball come to us."
With 11 rebounds from junior center Dane Erickson and six more off the bench from senior guard Dylan Scates, THS outrebounded the T'wolves, 36-31.
The game was tight early, as Tonganoxie led 12-11 after a quarter.
A nearly six-minute long, 15-4 run by Tonganoxie to open the second quarter, though, changed the dynamic of the game. Erickson and senior point guard Jeremy Carlisle scored all 15 points in the run, with Carlisle getting 11 of his game-high 24 points in the spurt.
Though the point guard struggled somewhat, missing 14 of his 20 field-goal attempts, he made up for it by getting to the foul line, where he went 10-for-14.
The Chieftains are off until Friday, when they travel to Atchison.
Score by quarters
BVSW 11 6 11 18 — 46
THS 12 15 18 17 — 62
Blue Valley Southwest scoring
Michael Madsen 3-5 0-1 7, Garrett Gillett 1-2 0-0 2, Joe Reyes 5-12 0-3 11, Taylor Smith 0-1 0-0 0, Colton Miller 2-10 3-4 8, Anthony Miller 7-10 0-1 14, Jake Novicoff 1-2 0-0 0, Jack Raybuck 1-1 0-0 2.
Tonganoxie scoring
Dane Erickson 5-9 6-8 16, Ben Williams 1-2 1-1 3, Colby Yates 3-5 1-2 8, Jeremy Carlisle 6-20 10-14 24, Dylan Jacobs 1-5 0-0 2, Dylan Scates 1-6 0-0 2, Austin Vickers 1-2 0-0 2, Brennen Williams 1-3 0-0 3, Kody Campbell 0-0 2-4 2.