Chieftains a work in progress
THS

boys adjust to new roles, take 5th at invitational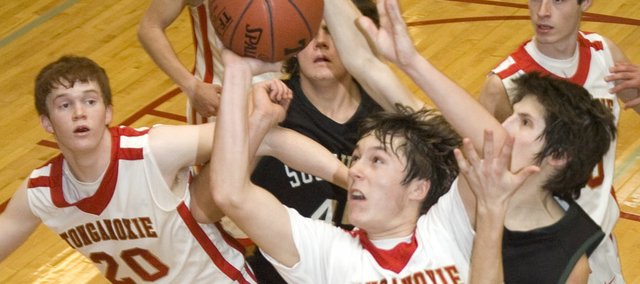 Photo Gallery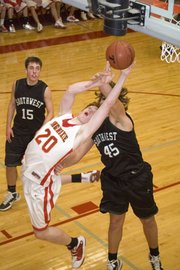 Tonganoxie boys finish 5th at invitational
The Tonganoxie High boys basketball team finished with a 2-1 record and took fifth place at the Tonganoxie Invitational.
More times than not this season, the Tonganoxie High boys basketball team found itself in a hole just minutes into a game and more times than not the end result was a loss.
Searching desperately for a way to remedy that issue, Chieftains coach Shawn Phillips decided after his team's opening-round loss at the Tonganoxie Invitational a drastic change might alter the squad's fortunes.
With a new starting lineup and improved energy in the opening minutes, THS finished 2-1 at its home tournament, which finished Saturday with a 62-46 Chieftains victory against Blue Valley Southwest in the fifth-place game.
Phillips first tweaked with the starting unit a few weeks back, placing junior guard Colby Yates in the first five. He went two steps further at the invitational, though, moving seniors Austin Vickers and Dylan Scates to the bench and replacing them with forwards Ben Williams and Dylan Jacobs in the starting five.
Phillips said the move to the bench had nothing to do with the character of the two seniors. Basically, a four-game losing streak forced the coach to try something — anything — to transform THS into a better team.
"We'd been coming out flat, so we were trying to look for some of our guys who are just energy-type guys and Ben's a really good hustle kid," Phillips said on Friday, following Tonganoxie's 71-58 win against Atchison that snapped its losing streak.
On Saturday, Phillips stuck with the new rotation, which also featured consistent bench minutes for Brennen Williams. The coach complimented Scates and Vickers for adjusting to the change and helping the team win.
"It's always difficult to go from a starter to not starting anymore," the coach said. "We needed to change it up. You keep doing what you're doing, you're gonna keep getting the same results. We're looking for different results and we still expect them to play a lot and be a big part of what we're doing."
Other than Scates' six rebounds, none of the four players whose role was changed with the new lineup made a huge statistical impact against BVSW, but Tonganoxie (4-6) played markedly better than it did during its losing streak.
Junior center Dane Erickson, who had 16 points and 11 rebounds in the fifth-place game, said the Chieftains looked like a more complete team.
"It's been our best game so far," Erickson said of Saturday's win. "The whole team stepped up. We had people taking charges… Everything was working our way this game."
Better energy and defense, he added, helped THS greatly.
"Everybody was hustling more and everybody on the team wanted this win," Erickson said.
The desire was evident in the opening minutes of the second half. Though the Chieftains had a 10-point lead, they extended it to 20 with a 12-2 run to open the third quarter.
Jacobs scored the first basket of the third on a jump shot from the left wing. Senior point guard Jeremy Carlisle hit a 3-pointer to contribute to the run, as did Yates, and Erickson scored on an offensive rebound.
Carlisle, who led the team with 24 points and five assists, was glad to see the team win again with its new lineup.
"I think this is the best that we've played, but I don't think we're near our potential," Carlisle said. "I think we still have a lot of guys who are still starting to figure out what we need them to do for the team."
Phillips agreed that players would continue to grow into new roles.
"It seems like we're starting to get it a little bit," he said. "Some different guys are stepping up and doing things. We switched up our starting lineup a little bit and our guys coming off the bench are bringing intensity."
In fact, the coach said, Tonganoxie's intensity reached new ground in the win against the Timberwolves (1-10).
"Our effort level and our energy on the floor was probably the best it's been, and that's something that we've really struggled with, so it's good to see us start to do that a little bit," Phillips said.
Considering THS has finished strong down the stretch each of the last two years after playing well at the invitational, Carlisle hoped this season would be no different.
"Tournament weeks the last couple of years have been the week where we really started rolling, and I believe that's the same result for this year," the point guard said. "We obviously didn't get on the winning side of the bracket, which is where we wanted to be, but we still went 2-1."
Only four teams at the tournament finished with a winning record at the invitational and the Chieftains were one of them. After losing in the first round to eventual champion Silver Lake, they bounced back with a pair of wins. Erickson said they wanted to make the best of the week.
"It's definitely important to get some wins and start rolling, just start to build more confidence," he said.
Although Tonganoxie would have preferred to play in the title game, Phillips said the wins they earned in the consolation bracket should contribute to the squad's ongoing development.
"I think we're just starting to figure out as a team what it takes to win," Phillips said. "That's the most encouraging thing."
Score by quarters
BVSW 11 6 11 18 — 46
THS 12 15 18 17 — 62
Blue Valley Southwest scoring
Michael Madsen 3-5 0-1 7, Garrett Gillett 1-2 0-0 2, Joe Reyes 5-12 0-3 11, Taylor Smith 0-1 0-0 0, Colton Miller 2-10 3-4 8, Anthony Miller 7-10 0-1 14, Jake Novicoff 1-2 0-0 0, Jack Raybuck 1-1 0-0 2.
Tonganoxie scoring
Dane Erickson 5-9 6-8 16, Ben Williams 1-2 1-1 3, Colby Yates 3-5 1-2 8, Jeremy Carlisle 6-20 10-14 24, Dylan Jacobs 1-5 0-0 2, Dylan Scates 1-6 0-0 2, Austin Vickers 1-2 0-0 2, Brennen Williams 1-3 0-0 3, Kody Campbell 0-0 2-4 2.