Tonganoxie girls bust out of slump in 7th-place game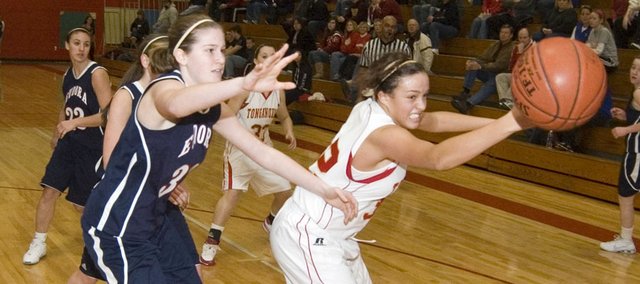 Photo Gallery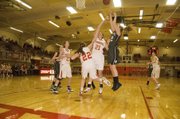 THS girls recover from 0-2 start at tourney
The Tonganoxie High girls basketball team won the seventh-place game at the Tonganoxie Invitational to avoid a winless tournament week.
Given the locale and situation, things could have gone much worse for the Tonganoxie High girls basketball team Saturday at its home tournament.
The Chieftains drew the unenviable task of playing the early game — with a 10 a.m. tip — in the THS west gym. They were on the wrong end of campus in the wrong time slot because they were playing in the Tonganoxie Invitational's seventh-place game, a first for the program.
Rather than sulk in its surroundings and extend a losing streak, though, Tonganoxie played with title-game intensity and defeated Eudora, 43-26.
The victory was the Chieftains' first since Dec. 17 and halted a six-game slide. Junior THS forward Tavia Brown, who got her first start of the season, said it felt "amazing" to finally get another win.
"We started playing together and more as a team," Brown said after scoring six points, grabbing five rebounds and swatting four shots. "The chemistry's there and I think it's gonna finally stay."
Tonganoxie coach Randy Kraft said his team got back to playing with energy, particularly on defense, which he said had been lacking during the team's losing streak.
THS (3-7) made substitutions regularly and quickly throughout the win, as its defense wreaked havoc on Eudora (3-10), forcing the visitors to 17.9-percent shooting and 21 turnovers. It was a style of play Kraft had longed to see.
"We had kids getting tired because they were playing hard," the coach said.
Sophomore forward Jenny Whitledge said Kraft had been emphasizing the importance of defense even more than usual.
"In practice we have been working a lot on our defense and he's been pushing us a lot to have our hands up and going after the ball and being aggressive," Whitledge said after leading THS with nine points and seven rebounds.
Beginning in the first quarter, Kraft was clearly pleased with the team's intensity, shouting "good" time and again, even as the Chieftains struggled to score early on. Amanda Holroyd hit a free throw in the opening minute but it wasn't until nearly four minutes later that Haley Smith hit a jumper and got Tonganoxie its first field goal.
The slow start didn't discourage Kraft, however, because THS was getting opportunities and just missing shots. He told the players their newfound energy was affecting the results on offense.
"You guys haven't played that hard and that intense," he told them. "You're not used to getting those kind of shots. That's why you're missing."
The Chieftains only shot 34.9 percent (15-for-43) in the 17-point victory and turned the ball over 25 times, but there was a lesson to be learned from those numbers.
"We can't always control whether we're going to make shots or not," Kraft said, "but the intent's got to be there, the effort's got to be there and we got great shots."
After being stuck on one point for a while, THS got going with a 13-2 run that lasted until the first few minutes of the second quarter. Following Smith's jumper, Whitledge scored five straight points and freshman Emma Stilgenbauer hit a jump shot off the dribble to give Tonganoxie a 10-4 lead heading into the second.
Whitledge opened the second quarter with a baseline jumper, then Stilgenbauer stole the basketball and made a layup to put THS ahead 14-4.
The Chieftains were upset about playing in the tournament's seventh-place game, Whitledge said, because THS had only played for first or third in the previous seven years of the girls tournament. She said they were especially disappointed with their play in their first two games (both losses) against De Soto and Blue Valley Southwest.
"We just felt that we didn't play our very best and we've never played in the seventh-place game — never," Whitledge said.
Kraft said the week could have been much better for Tonganoxie had the team played with greater effort in the first round against DHS, when it lost 30-29. De Soto ended up beating Lansing in a semifinal before losing to Silver Lake, 44-39, in the championship game.
Still, the coach wanted to see his team respond in a positive way in the seventh-place game and he got one of its best efforts of the season.
Just as important, the entire team was excited about the game. At one point in the third quarter, sophomore Madee Walker drew a five-second call against EHS with her defensive footwork and everyone on the bench jumped up to celebrate.
"They did a great job," Kraft said of the Chieftains following the win.
One of best plays of the morning, he said, was when two THS forwards ended up on the floor under their own basket and three Tonganoxie guards stopped a fast break on the other end.
"That's what we need," Kraft said. "They were trusting each other and they were getting after it and they get results from it."
Finally getting that elusive third win of the season, too, was crucial.
"I think it was extremely important to get a win and play in this fashion," the coach said.
The victory could change the direction of Tonganoxie's season. Whitledge said now the Chieftains want to start a different kind of streak — one involving victories.
"I think it got everyone's confidence back," she said of Saturday's victory.
THS plays at 6 p.m. on Friday at Atchison.
Score by quarters
EHS 4 8 4 10 — 26
THS 10 13 10 10 — 43
Eudora scoring
Danelle Topil 1-8 0-0 2, Valerie Pringle 3-12 8-10 15, Jennifer Bowser 0-3 1-3 1, Madison Maring 0-1 1-2 1, Victoria Lehmann 0-2 0-0 0, Anyssa Mays 0-2 0-0 0, Ashlyn Jackson 1-4 0-0 2, Cassie Roberts 2-4 1-5 5, Allie Webb 0-3 0-0 0.
Tonganoxie scoring
Amanda Holroyd 1-4 1-2 4, Danielle Miller 2-3 1-2 5, Jenny Whitledge 3-8 3-4 9, Tavia Brown 2-4 2-2 6, Hannah Kemp 0-2 0-0 0, Haley Smith 2-9 4-4 8, Madee Walker 2-7 0-0 4, Emma Stilgenbauer 3-4 0-0 6, Tayler Miles 0-2 1-2 1.